');mask-image:url('data:image/svg+xml;utf8,');mask-mode:alpha;-webkit-mask-position:center;mask-position:center;-webkit-mask-repeat:no-repeat;mask-repeat:no-repeat;-webkit-mask-size:contain;mask-size:contain}}.wp-block-image :where(.has-border-color){border-style:solid}.wp-block-image :where([style*=border-top-color]){border-top-style:solid}.wp-block-image :where([style*=border-right-color]){border-right-style:solid}.wp-block-image :where([style*=border-bottom-color]){border-bottom-style:solid}.wp-block-image :where([style*=border-left-color]){border-left-style:solid}.wp-block-image :where([style*=border-width]){border-style:solid}.wp-block-image :where([style*=border-top-width]){border-top-style:solid}.wp-block-image :where([style*=border-right-width]){border-right-style:solid}.wp-block-image :where([style*=border-bottom-width]){border-bottom-style:solid}.wp-block-image :where([style*=border-left-width]){border-left-style:solid}.wp-block-image figure{margin:0}.wp-lightbox-container .img-container{position:relative}.wp-lightbox-container button{background:none;border:none;cursor:zoom-in;height:100%;position:absolute;width:100%;z-index:100}.wp-lightbox-container button:focus-visible{outline:5px auto #212121;outline:5px auto -webkit-focus-ring-color;outline-offset:5px}.wp-lightbox-overlay{height:100vh;left:0;overflow:hidden;position:fixed;top:0;visibility:hidden;width:100vw;z-index:100000}.wp-lightbox-overlay .close-button{cursor:pointer;padding:0;position:absolute;right:12.5px;top:12.5px;z-index:5000000}.wp-lightbox-overlay .wp-block-image{align-items:center;box-sizing:border-box;display:flex;flex-direction:column;height:100%;justify-content:center;position:absolute;width:100%;z-index:3000000}.wp-lightbox-overlay .wp-block-image figcaption{display:none}.wp-lightbox-overlay .wp-block-image img{max-height:100%;max-width:100%;width:auto}.wp-lightbox-overlay button{background:none;border:none}.wp-lightbox-overlay .scrim{background-color:#fff;height:100%;opacity:.9;position:absolute;width:100%;z-index:2000000}.wp-lightbox-overlay.fade.active{animation:turn-on-visibility .25s both;visibility:visible}.wp-lightbox-overlay.fade.active img{animation:turn-on-visibility .3s both}.wp-lightbox-overlay.fade.hideanimationenabled:not(.active){animation:turn-off-visibility .3s both}.wp-lightbox-overlay.fade.hideanimationenabled:not(.active) img{animation:turn-off-visibility .25s both}.wp-lightbox-overlay.zoom img{height:var(--lightbox-image-max-height);position:absolute;transform-origin:top left;width:var(--lightbox-image-max-width)}.wp-lightbox-overlay.zoom.active{opacity:1;visibility:visible}.wp-lightbox-overlay.zoom.active .wp-block-image img{animation:lightbox-zoom-in .4s forwards}@media (prefers-reduced-motion){.wp-lightbox-overlay.zoom.active .wp-block-image img{animation:turn-on-visibility .4s both}}.wp-lightbox-overlay.zoom.active .scrim{animation:turn-on-visibility .4s forwards}.wp-lightbox-overlay.zoom.hideanimationenabled:not(.active) .wp-block-image img{animation:lightbox-zoom-out .4s forwards}@media (prefers-reduced-motion){.wp-lightbox-overlay.zoom.hideanimationenabled:not(.active) .wp-block-image img{animation:turn-off-visibility .4s both}}.wp-lightbox-overlay.zoom.hideanimationenabled:not(.active) .scrim{animation:turn-off-visibility .4s forwards}html.has-lightbox-open{overflow:hidden}@keyframes turn-on-visibility{0%{opacity:0}to{opacity:1}}@keyframes turn-off-visibility{0%{opacity:1;visibility:visible}99%{opacity:0;visibility:visible}to{opacity:0;visibility:hidden}}@keyframes lightbox-zoom-in{0%{left:var(--lightbox-initial-left-position);top:var(--lightbox-initial-top-position);transform:scale(var(--lightbox-scale-width),var(--lightbox-scale-height))}to{left:var(--lightbox-target-left-position);top:var(--lightbox-target-top-position);transform:scale(1)}}@keyframes lightbox-zoom-out{0%{left:var(--lightbox-target-left-position);top:var(--lightbox-target-top-position);transform:scale(1);visibility:visible}99%{visibility:visible}to{left:var(--lightbox-initial-left-position);top:var(--lightbox-initial-top-position);transform:scale(var(--lightbox-scale-width),var(--lightbox-scale-height))}}ol.wp-block-latest-comments{box-sizing:border-box;margin-left:0}:where(.wp-block-latest-comments:not([style*=line-height] .wp-block-latest-comments__comment)){line-height:1.1}:where(.wp-block-latest-comments:not([style*=line-height] .wp-block-latest-comments__comment-excerpt p)){line-height:1.8}.has-dates :where(.wp-block-latest-comments:not([style*=line-height])),.has-excerpts :where(.wp-block-latest-comments:not([style*=line-height])){line-height:1.5}.wp-block-latest-comments .wp-block-latest-comments{padding-left:0}.wp-block-latest-comments__comment{list-style:none;margin-bottom:1em}.has-avatars .wp-block-latest-comments__comment{list-style:none;min-height:2.25em}.has-avatars .wp-block-latest-comments__comment .wp-block-latest-comments__comment-excerpt,.has-avatars .wp-block-latest-comments__comment .wp-block-latest-comments__comment-meta{margin-left:3.25em}.wp-block-latest-comments__comment-excerpt p{font-size:.875em;margin:.36em 0 1.4em}.wp-block-latest-comments__comment-date{display:block;font-size:.75em}.wp-block-latest-comments .avatar,.wp-block-latest-comments__comment-avatar{border-radius:1.5em;display:block;float:left;height:2.5em;margin-right:.75em;width:2.5em}.wp-block-latest-comments[class*=-font-size] a,.wp-block-latest-comments[style*=font-size] a{font-size:inherit}.wp-block-latest-posts{box-sizing:border-box}.wp-block-latest-posts.alignleft{margin-right:2em}.wp-block-latest-posts.alignright{margin-left:2em}.wp-block-latest-posts.wp-block-latest-posts__list{list-style:none;padding-left:0}.wp-block-latest-posts.wp-block-latest-posts__list li{clear:both}.wp-block-latest-posts.is-grid{display:flex;flex-wrap:wrap;padding:0}.wp-block-latest-posts.is-grid li{margin:0 1.25em 1.25em 0;width:100%}@media (min-width:600px){.wp-block-latest-posts.columns-2 li{width:calc(50% - .625em)}.wp-block-latest-posts.columns-2 li:nth-child(2n){margin-right:0}.wp-block-latest-posts.columns-3 li{width:calc(33.33333% - .83333em)}.wp-block-latest-posts.columns-3 li:nth-child(3n){margin-right:0}.wp-block-latest-posts.columns-4 li{width:calc(25% - .9375em)}.wp-block-latest-posts.columns-4 li:nth-child(4n){margin-right:0}.wp-block-latest-posts.columns-5 li{width:calc(20% - 1em)}.wp-block-latest-posts.columns-5 li:nth-child(5n){margin-right:0}.wp-block-latest-posts.columns-6 li{width:calc(16.66667% - 1.04167em)}.wp-block-latest-posts.columns-6 li:nth-child(6n){margin-right:0}}.wp-block-latest-posts__post-author,.wp-block-latest-posts__post-date{display:block;font-size:.8125em}.wp-block-latest-posts__post-excerpt{margin-bottom:1em;margin-top:.5em}.wp-block-latest-posts__featured-image a{display:inline-block}.wp-block-latest-posts__featured-image img{height:auto;max-width:100%;width:auto}.wp-block-latest-posts__featured-image.alignleft{float:left;margin-right:1em}.wp-block-latest-posts__featured-image.alignright{float:right;margin-left:1em}.wp-block-latest-posts__featured-image.aligncenter{margin-bottom:1em;text-align:center}ol,ul{box-sizing:border-box}ol.has-background,ul.has-background{padding:1.25em 2.375em}.wp-block-media-text{box-sizing:border-box; /*!rtl:begin:ignore*/ direction:ltr; /*!rtl:end:ignore*/ display:grid;grid-template-columns:50% 1fr;grid-template-rows:auto}.wp-block-media-text.has-media-on-the-right{grid-template-columns:1fr 50%}.wp-block-media-text.is-vertically-aligned-top .wp-block-media-text__content,.wp-block-media-text.is-vertically-aligned-top .wp-block-media-text__media{align-self:start}.wp-block-media-text .wp-block-media-text__content,.wp-block-media-text .wp-block-media-text__media,.wp-block-media-text.is-vertically-aligned-center .wp-block-media-text__content,.wp-block-media-text.is-vertically-aligned-center .wp-block-media-text__media{align-self:center}.wp-block-media-text.is-vertically-aligned-bottom .wp-block-media-text__content,.wp-block-media-text.is-vertically-aligned-bottom .wp-block-media-text__media{align-self:end}.wp-block-media-text .wp-block-media-text__media{ /*!rtl:begin:ignore*/ grid-column:1;grid-row:1; /*!rtl:end:ignore*/ margin:0}.wp-block-media-text .wp-block-media-text__content{direction:ltr; /*!rtl:begin:ignore*/ grid-column:2;grid-row:1; /*!rtl:end:ignore*/ padding:0 8%;word-break:break-word}.wp-block-media-text.has-media-on-the-right .wp-block-media-text__media{ /*!rtl:begin:ignore*/ grid-column:2;grid-row:1 /*!rtl:end:ignore*/ }.wp-block-media-text.has-media-on-the-right .wp-block-media-text__content{ /*!rtl:begin:ignore*/ grid-column:1;grid-row:1 /*!rtl:end:ignore*/ }.wp-block-media-text__media img,.wp-block-media-text__media video{height:auto;max-width:unset;vertical-align:middle;width:100%}.wp-block-media-text.is-image-fill .wp-block-media-text__media{background-size:cover;height:100%;min-height:250px}.wp-block-media-text.is-image-fill .wp-block-media-text__media>a{display:block;height:100%}.wp-block-media-text.is-image-fill .wp-block-media-text__media img{clip:rect(0,0,0,0);border:0;height:1px;margin:-1px;overflow:hidden;padding:0;position:absolute;width:1px}@media (max-width:600px){.wp-block-media-text.is-stacked-on-mobile{grid-template-columns:100%!important}.wp-block-media-text.is-stacked-on-mobile .wp-block-media-text__media{grid-column:1;grid-row:1}.wp-block-media-text.is-stacked-on-mobile .wp-block-media-text__content{grid-column:1;grid-row:2}}.wp-block-navigation{--navigation-layout-justification-setting:flex-start;--navigation-layout-direction:row;--navigation-layout-wrap:wrap;--navigation-layout-justify:flex-start;--navigation-layout-align:center;position:relative}.wp-block-navigation ul{margin-bottom:0;margin-left:0;margin-top:0;padding-left:0}.wp-block-navigation ul,.wp-block-navigation ul li{list-style:none;padding:0}.wp-block-navigation .wp-block-navigation-item{align-items:center;display:flex;position:relative}.wp-block-navigation .wp-block-navigation-item .wp-block-navigation__submenu-container:empty{display:none}.wp-block-navigation .wp-block-navigation-item__content{display:block}.wp-block-navigation .wp-block-navigation-item__content.wp-block-navigation-item__content{color:inherit}.wp-block-navigation.has-text-decoration-underline .wp-block-navigation-item__content,.wp-block-navigation.has-text-decoration-underline .wp-block-navigation-item__content:active,.wp-block-navigation.has-text-decoration-underline .wp-block-navigation-item__content:focus{text-decoration:underline}.wp-block-navigation.has-text-decoration-line-through .wp-block-navigation-item__content,.wp-block-navigation.has-text-decoration-line-through .wp-block-navigation-item__content:active,.wp-block-navigation.has-text-decoration-line-through .wp-block-navigation-item__content:focus{text-decoration:line-through}.wp-block-navigation:where(:not([class*=has-text-decoration])) a{text-decoration:none}.wp-block-navigation:where(:not([class*=has-text-decoration])) a:active,.wp-block-navigation:where(:not([class*=has-text-decoration])) a:focus{text-decoration:none}.wp-block-navigation .wp-block-navigation__submenu-icon{align-self:center;background-color:inherit;border:none;color:currentColor;display:inline-block;font-size:inherit;height:.6em;line-height:0;margin-left:.25em;padding:0;width:.6em}.wp-block-navigation .wp-block-navigation__submenu-icon svg{stroke:currentColor;display:inline-block;height:inherit;margin-top:.075em;width:inherit}.wp-block-navigation.is-vertical{--navigation-layout-direction:column;--navigation-layout-justify:initial;--navigation-layout-align:flex-start}.wp-block-navigation.no-wrap{--navigation-layout-wrap:nowrap}.wp-block-navigation.items-justified-center{--navigation-layout-justification-setting:center;--navigation-layout-justify:center}.wp-block-navigation.items-justified-center.is-vertical{--navigation-layout-align:center}.wp-block-navigation.items-justified-right{--navigation-layout-justification-setting:flex-end;--navigation-layout-justify:flex-end}.wp-block-navigation.items-justified-right.is-vertical{--navigation-layout-align:flex-end}.wp-block-navigation.items-justified-space-between{--navigation-layout-justification-setting:space-between;--navigation-layout-justify:space-between}.wp-block-navigation .has-child .wp-block-navigation__submenu-container{align-items:normal;background-color:inherit;color:inherit;display:flex;flex-direction:column;height:0;left:-1px;opacity:0;overflow:hidden;position:absolute;top:100%;transition:opacity .1s linear;visibility:hidden;width:0;z-index:2}.wp-block-navigation .has-child .wp-block-navigation__submenu-container>.wp-block-navigation-item>.wp-block-navigation-item__content{display:flex;flex-grow:1}.wp-block-navigation .has-child .wp-block-navigation__submenu-container>.wp-block-navigation-item>.wp-block-navigation-item__content .wp-block-navigation__submenu-icon{margin-left:auto;margin-right:0}.wp-block-navigation .has-child .wp-block-navigation__submenu-container .wp-block-navigation-item__content{margin:0}@media (min-width:782px){.wp-block-navigation .has-child .wp-block-navigation__submenu-container .wp-block-navigation__submenu-container{left:100%;top:-1px}.wp-block-navigation .has-child .wp-block-navigation__submenu-container .wp-block-navigation__submenu-container:before{background:transparent;content:"";display:block;height:100%;position:absolute;right:100%;width:.5em}.wp-block-navigation .has-child .wp-block-navigation__submenu-container .wp-block-navigation__submenu-icon{margin-right:.25em}.wp-block-navigation .has-child .wp-block-navigation__submenu-container .wp-block-navigation__submenu-icon svg{transform:rotate(-90deg)}}.wp-block-navigation .has-child:not(.open-on-click):hover>.wp-block-navigation__submenu-container{height:auto;min-width:200px;opacity:1;overflow:visible;visibility:visible;width:auto}.wp-block-navigation .has-child:not(.open-on-click):not(.open-on-hover-click):focus-within>.wp-block-navigation__submenu-container{height:auto;min-width:200px;opacity:1;overflow:visible;visibility:visible;width:auto}.wp-block-navigation .has-child .wp-block-navigation-submenu__toggle[aria-expanded=true]~.wp-block-navigation__submenu-container{height:auto;min-width:200px;opacity:1;overflow:visible;visibility:visible;width:auto}.wp-block-navigation.has-background .has-child .wp-block-navigation__submenu-container{left:0;top:100%}@media (min-width:782px){.wp-block-navigation.has-background .has-child .wp-block-navigation__submenu-container .wp-block-navigation__submenu-container{left:100%;top:0}}.wp-block-navigation-submenu{display:flex;position:relative}.wp-block-navigation-submenu .wp-block-navigation__submenu-icon svg{stroke:currentColor}button.wp-block-navigation-item__content{background-color:transparent;border:none;color:currentColor;font-family:inherit;font-size:inherit;font-style:inherit;font-weight:inherit;line-height:inherit;text-align:left;text-transform:inherit}.wp-block-navigation-submenu__toggle{cursor:pointer}.wp-block-navigation-item.open-on-click .wp-block-navigation-submenu__toggle{padding-right:.85em}.wp-block-navigation-item.open-on-click .wp-block-navigation-submenu__toggle+.wp-block-navigation__submenu-icon{margin-left:-.6em;pointer-events:none}.wp-block-navigation .wp-block-page-list,.wp-block-navigation__container,.wp-block-navigation__responsive-close,.wp-block-navigation__responsive-container,.wp-block-navigation__responsive-container-content,.wp-block-navigation__responsive-dialog{gap:inherit}:where(.wp-block-navigation.has-background .wp-block-navigation-item a:not(.wp-element-button)),:where(.wp-block-navigation.has-background .wp-block-navigation-submenu a:not(.wp-element-button)){padding:.5em 1em}:where(.wp-block-navigation .wp-block-navigation__submenu-container .wp-block-navigation-item a:not(.wp-element-button)),:where(.wp-block-navigation .wp-block-navigation__submenu-container .wp-block-navigation-submenu a:not(.wp-element-button)),:where(.wp-block-navigation .wp-block-navigation__submenu-container .wp-block-navigation-submenu button.wp-block-navigation-item__content),:where(.wp-block-navigation .wp-block-navigation__submenu-container .wp-block-pages-list__item button.wp-block-navigation-item__content){padding:.5em 1em}.wp-block-navigation.items-justified-right .wp-block-navigation__container .has-child .wp-block-navigation__submenu-container,.wp-block-navigation.items-justified-right .wp-block-page-list>.has-child .wp-block-navigation__submenu-container,.wp-block-navigation.items-justified-space-between .wp-block-page-list>.has-child:last-child .wp-block-navigation__submenu-container,.wp-block-navigation.items-justified-space-between>.wp-block-navigation__container>.has-child:last-child .wp-block-navigation__submenu-container{left:auto;right:0}.wp-block-navigation.items-justified-right .wp-block-navigation__container .has-child .wp-block-navigation__submenu-container .wp-block-navigation__submenu-container,.wp-block-navigation.items-justified-right .wp-block-page-list>.has-child .wp-block-navigation__submenu-container .wp-block-navigation__submenu-container,.wp-block-navigation.items-justified-space-between .wp-block-page-list>.has-child:last-child .wp-block-navigation__submenu-container .wp-block-navigation__submenu-container,.wp-block-navigation.items-justified-space-between>.wp-block-navigation__container>.has-child:last-child .wp-block-navigation__submenu-container .wp-block-navigation__submenu-container{left:-1px;right:-1px}@media (min-width:782px){.wp-block-navigation.items-justified-right .wp-block-navigation__container .has-child .wp-block-navigation__submenu-container .wp-block-navigation__submenu-container,.wp-block-navigation.items-justified-right .wp-block-page-list>.has-child .wp-block-navigation__submenu-container .wp-block-navigation__submenu-container,.wp-block-navigation.items-justified-space-between .wp-block-page-list>.has-child:last-child .wp-block-navigation__submenu-container .wp-block-navigation__submenu-container,.wp-block-navigation.items-justified-space-between>.wp-block-navigation__container>.has-child:last-child .wp-block-navigation__submenu-container .wp-block-navigation__submenu-container{left:auto;right:100%}}.wp-block-navigation:not(.has-background) .wp-block-navigation__submenu-container{background-color:#fff;border:1px solid rgba(0,0,0,.15);color:#000}.wp-block-navigation__container{align-items:var(--navigation-layout-align,initial);display:flex;flex-direction:var(--navigation-layout-direction,initial);flex-wrap:var(--navigation-layout-wrap,wrap);justify-content:var(--navigation-layout-justify,initial);list-style:none;margin:0;padding-left:0}.wp-block-navigation__container .is-responsive{display:none}.wp-block-navigation__container:only-child,.wp-block-page-list:only-child{flex-grow:1}@keyframes overlay-menu__fade-in-animation{0%{opacity:0;transform:translateY(.5em)}to{opacity:1;transform:translateY(0)}}.wp-block-navigation__responsive-container{bottom:0;display:none;left:0;position:fixed;right:0;top:0}.wp-block-navigation__responsive-container .wp-block-navigation-link a{color:inherit}.wp-block-navigation__responsive-container .wp-block-navigation__responsive-container-content{align-items:var(--navigation-layout-align,initial);display:flex;flex-direction:var(--navigation-layout-direction,initial);flex-wrap:var(--navigation-layout-wrap,wrap);justify-content:var(--navigation-layout-justify,initial)}.wp-block-navigation__responsive-container:not(.is-menu-open.is-menu-open){background-color:inherit!important;color:inherit!important}.wp-block-navigation__responsive-container.is-menu-open{animation:overlay-menu__fade-in-animation .1s ease-out;animation-fill-mode:forwards;background-color:inherit;display:flex;flex-direction:column;overflow:auto;padding:var(--wp--style--root--padding-top,2rem) var(--wp--style--root--padding-right,2rem) var(--wp--style--root--padding-bottom,2rem) var(--wp--style--root--padding-left,2rem);z-index:100000}@media (prefers-reduced-motion:reduce){.wp-block-navigation__responsive-container.is-menu-open{animation-delay:0s;animation-duration:1ms}}.wp-block-navigation__responsive-container.is-menu-open .wp-block-navigation__responsive-container-content{align-items:var(--navigation-layout-justification-setting,inherit);display:flex;flex-direction:column;flex-wrap:nowrap;overflow:visible;padding-top:calc(2rem + 24px)}.wp-block-navigation__responsive-container.is-menu-open .wp-block-navigation__responsive-container-content,.wp-block-navigation__responsive-container.is-menu-open .wp-block-navigation__responsive-container-content .wp-block-navigation__container,.wp-block-navigation__responsive-container.is-menu-open .wp-block-navigation__responsive-container-content .wp-block-page-list{justify-content:flex-start}.wp-block-navigation__responsive-container.is-menu-open .wp-block-navigation__responsive-container-content .wp-block-navigation__submenu-icon{display:none}.wp-block-navigation__responsive-container.is-menu-open .wp-block-navigation__responsive-container-content .has-child .wp-block-navigation__submenu-container{border:none;height:auto;min-width:200px;opacity:1;overflow:initial;padding-left:2rem;padding-right:2rem;position:static;visibility:visible;width:auto}.wp-block-navigation__responsive-container.is-menu-open .wp-block-navigation__responsive-container-content .wp-block-navigation__container,.wp-block-navigation__responsive-container.is-menu-open .wp-block-navigation__responsive-container-content .wp-block-navigation__submenu-container{gap:inherit}.wp-block-navigation__responsive-container.is-menu-open .wp-block-navigation__responsive-container-content .wp-block-navigation__submenu-container{padding-top:var(--wp--style--block-gap,2em)}.wp-block-navigation__responsive-container.is-menu-open .wp-block-navigation__responsive-container-content .wp-block-navigation-item__content{padding:0}.wp-block-navigation__responsive-container.is-menu-open .wp-block-navigation__responsive-container-content .wp-block-navigation-item,.wp-block-navigation__responsive-container.is-menu-open .wp-block-navigation__responsive-container-content .wp-block-navigation__container,.wp-block-navigation__responsive-container.is-menu-open .wp-block-navigation__responsive-container-content .wp-block-page-list{align-items:var(--navigation-layout-justification-setting,initial);display:flex;flex-direction:column}.wp-block-navigation__responsive-container.is-menu-open .wp-block-navigation-item,.wp-block-navigation__responsive-container.is-menu-open .wp-block-navigation-item .wp-block-navigation__submenu-container,.wp-block-navigation__responsive-container.is-menu-open .wp-block-page-list{background:transparent!important;color:inherit!important}.wp-block-navigation__responsive-container.is-menu-open .wp-block-navigation__submenu-container.wp-block-navigation__submenu-container.wp-block-navigation__submenu-container.wp-block-navigation__submenu-container{left:auto;right:auto}@media (min-width:600px){.wp-block-navigation__responsive-container:not(.hidden-by-default):not(.is-menu-open){background-color:inherit;display:block;position:relative;width:100%;z-index:auto}.wp-block-navigation__responsive-container:not(.hidden-by-default):not(.is-menu-open) .wp-block-navigation__responsive-container-close{display:none}.wp-block-navigation__responsive-container.is-menu-open .wp-block-navigation__submenu-container.wp-block-navigation__submenu-container.wp-block-navigation__submenu-container.wp-block-navigation__submenu-container{left:0}}.wp-block-navigation:not(.has-background) .wp-block-navigation__responsive-container.is-menu-open{background-color:#fff;color:#000}.wp-block-navigation__toggle_button_label{font-size:1rem;font-weight:700}.wp-block-navigation__responsive-container-close,.wp-block-navigation__responsive-container-open{background:transparent;border:none;color:currentColor;cursor:pointer;margin:0;padding:0;text-transform:inherit;vertical-align:middle}.wp-block-navigation__responsive-container-close svg,.wp-block-navigation__responsive-container-open svg{fill:currentColor;display:block;height:24px;pointer-events:none;width:24px}.wp-block-navigation__responsive-container-open{display:flex}.wp-block-navigation__responsive-container-open.wp-block-navigation__responsive-container-open.wp-block-navigation__responsive-container-open{font-family:inherit;font-size:inherit;font-weight:inherit}@media (min-width:600px){.wp-block-navigation__responsive-container-open:not(.always-shown){display:none}}.wp-block-navigation__responsive-container-close{position:absolute;right:0;top:0;z-index:2}.wp-block-navigation__responsive-container-close.wp-block-navigation__responsive-container-close.wp-block-navigation__responsive-container-close{font-family:inherit;font-size:inherit;font-weight:inherit}.wp-block-navigation__responsive-close{width:100%}.has-modal-open .wp-block-navigation__responsive-close{margin-left:auto;margin-right:auto;max-width:var(--wp--style--global--wide-size,100%)}.wp-block-navigation__responsive-close:focus{outline:none}.is-menu-open .wp-block-navigation__responsive-close,.is-menu-open .wp-block-navigation__responsive-container-content,.is-menu-open .wp-block-navigation__responsive-dialog{box-sizing:border-box}.wp-block-navigation__responsive-dialog{position:relative}.has-modal-open .admin-bar .is-menu-open .wp-block-navigation__responsive-dialog{margin-top:46px}@media (min-width:782px){.has-modal-open .admin-bar .is-menu-open .wp-block-navigation__responsive-dialog{margin-top:32px}}html.has-modal-open{overflow:hidden}.wp-block-navigation .wp-block-navigation-item__label{overflow-wrap:break-word;word-break:normal}.wp-block-navigation .wp-block-navigation-item__description{display:none}.wp-block-navigation .wp-block-page-list{align-items:var(--navigation-layout-align,initial);background-color:inherit;display:flex;flex-direction:var(--navigation-layout-direction,initial);flex-wrap:var(--navigation-layout-wrap,wrap);justify-content:var(--navigation-layout-justify,initial)}.wp-block-navigation .wp-block-navigation-item{background-color:inherit}.is-small-text{font-size:.875em}.is-regular-text{font-size:1em}.is-large-text{font-size:2.25em}.is-larger-text{font-size:3em}.has-drop-cap:not(:focus):first-letter {float:left;font-size:8.4em;font-style:normal;font-weight:100;line-height:.68;margin:.05em .1em 0 0;text-transform:uppercase}body.rtl .has-drop-cap:not(:focus):first-letter {float:none;margin-left:.1em}p.has-drop-cap.has-background{overflow:hidden}p.has-background{padding:1.25em 2.375em}:where(p.has-text-color:not(.has-link-color)) a{color:inherit}.wp-block-post-author{display:flex;flex-wrap:wrap}.wp-block-post-author__byline{font-size:.5em;margin-bottom:0;margin-top:0;width:100%}.wp-block-post-author__avatar{margin-right:1em}.wp-block-post-author__bio{font-size:.7em;margin-bottom:.7em}.wp-block-post-author__content{flex-basis:0;flex-grow:1}.wp-block-post-author__name{margin:0}.wp-block-post-comments-form{box-sizing:border-box}.wp-block-post-comments-form[style*=font-weight] :where(.comment-reply-title){font-weight:inherit}.wp-block-post-comments-form[style*=font-family] :where(.comment-reply-title){font-family:inherit}.wp-block-post-comments-form[class*=-font-size] :where(.comment-reply-title),.wp-block-post-comments-form[style*=font-size] :where(.comment-reply-title){font-size:inherit}.wp-block-post-comments-form[style*=line-height] :where(.comment-reply-title){line-height:inherit}.wp-block-post-comments-form[style*=font-style] :where(.comment-reply-title){font-style:inherit}.wp-block-post-comments-form[style*=letter-spacing] :where(.comment-reply-title){letter-spacing:inherit}.wp-block-post-comments-form input[type=submit]{box-shadow:none;cursor:pointer;display:inline-block;overflow-wrap:break-word;text-align:center}.wp-block-post-comments-form input:not([type=submit]),.wp-block-post-comments-form textarea{border:1px solid #949494;font-family:inherit;font-size:1em}.wp-block-post-comments-form input:not([type=submit]):not([type=checkbox]),.wp-block-post-comments-form textarea{padding:calc(.667em + 2px)}.wp-block-post-comments-form .comment-form input:not([type=submit]):not([type=checkbox]):not([type=hidden]),.wp-block-post-comments-form .comment-form textarea{box-sizing:border-box;display:block;width:100%}.wp-block-post-comments-form .comment-form-author label,.wp-block-post-comments-form .comment-form-email label,.wp-block-post-comments-form .comment-form-url label{display:block;margin-bottom:.25em}.wp-block-post-comments-form .comment-form-cookies-consent{display:flex;gap:.25em}.wp-block-post-comments-form .comment-form-cookies-consent #wp-comment-cookies-consent{margin-top:.35em}.wp-block-post-comments-form .comment-reply-title{margin-bottom:0}.wp-block-post-comments-form .comment-reply-title :where(small){font-size:var(--wp--preset--font-size--medium,smaller);margin-left:.5em}.wp-block-post-date{box-sizing:border-box}:where(.wp-block-post-excerpt){margin-bottom:var(--wp--style--block-gap);margin-top:var(--wp--style--block-gap)}.wp-block-post-excerpt__excerpt{margin-bottom:0;margin-top:0}.wp-block-post-excerpt__more-text{margin-bottom:0;margin-top:var(--wp--style--block-gap)}.wp-block-post-excerpt__more-link{display:inline-block}.wp-block-post-featured-image{margin-left:0;margin-right:0}.wp-block-post-featured-image a{display:block;height:100%}.wp-block-post-featured-image img{box-sizing:border-box;height:auto;max-width:100%;vertical-align:bottom;width:100%}.wp-block-post-featured-image.alignfull img,.wp-block-post-featured-image.alignwide img{width:100%}.wp-block-post-featured-image .wp-block-post-featured-image__overlay.has-background-dim{background-color:#000;inset:0;position:absolute}.wp-block-post-featured-image{position:relative}.wp-block-post-featured-image .wp-block-post-featured-image__overlay.has-background-gradient{background-color:transparent}.wp-block-post-featured-image .wp-block-post-featured-image__overlay.has-background-dim-0{opacity:0}.wp-block-post-featured-image .wp-block-post-featured-image__overlay.has-background-dim-10{opacity:.1}.wp-block-post-featured-image .wp-block-post-featured-image__overlay.has-background-dim-20{opacity:.2}.wp-block-post-featured-image .wp-block-post-featured-image__overlay.has-background-dim-30{opacity:.3}.wp-block-post-featured-image .wp-block-post-featured-image__overlay.has-background-dim-40{opacity:.4}.wp-block-post-featured-image .wp-block-post-featured-image__overlay.has-background-dim-50{opacity:.5}.wp-block-post-featured-image .wp-block-post-featured-image__overlay.has-background-dim-60{opacity:.6}.wp-block-post-featured-image .wp-block-post-featured-image__overlay.has-background-dim-70{opacity:.7}.wp-block-post-featured-image .wp-block-post-featured-image__overlay.has-background-dim-80{opacity:.8}.wp-block-post-featured-image .wp-block-post-featured-image__overlay.has-background-dim-90{opacity:.9}.wp-block-post-featured-image .wp-block-post-featured-image__overlay.has-background-dim-100{opacity:1}.wp-block-post-navigation-link .wp-block-post-navigation-link__arrow-previous{display:inline-block;margin-right:1ch}.wp-block-post-navigation-link .wp-block-post-navigation-link__arrow-previous:not(.is-arrow-chevron){transform:scaleX(1)}.wp-block-post-navigation-link .wp-block-post-navigation-link__arrow-next{display:inline-block;margin-left:1ch}.wp-block-post-navigation-link .wp-block-post-navigation-link__arrow-next:not(.is-arrow-chevron){transform:scaleX(1)}.wp-block-post-terms{box-sizing:border-box}.wp-block-post-terms .wp-block-post-terms__separator{white-space:pre-wrap}.wp-block-post-time-to-read,.wp-block-post-title{box-sizing:border-box}.wp-block-post-title{word-break:break-word}.wp-block-post-title a{display:inline-block}.wp-block-preformatted{white-space:pre-wrap}.wp-block-preformatted.has-background{padding:1.25em 2.375em}.wp-block-pullquote{box-sizing:border-box;overflow-wrap:break-word;padding:3em 0;text-align:center}.wp-block-pullquote blockquote,.wp-block-pullquote cite,.wp-block-pullquote p{color:inherit}.wp-block-pullquote.alignleft,.wp-block-pullquote.alignright{max-width:420px}.wp-block-pullquote cite,.wp-block-pullquote footer{position:relative}.wp-block-pullquote .has-text-color a{color:inherit}:where(.wp-block-pullquote){margin:0 0 1em}.wp-block-pullquote.has-text-align-left blockquote{text-align:left}.wp-block-pullquote.has-text-align-right blockquote{text-align:right}.wp-block-pullquote.is-style-solid-color{border:none}.wp-block-pullquote.is-style-solid-color blockquote{margin-left:auto;margin-right:auto;max-width:60%}.wp-block-pullquote.is-style-solid-color blockquote p{font-size:2em;margin-bottom:0;margin-top:0}.wp-block-pullquote.is-style-solid-color blockquote cite{font-style:normal;text-transform:none}.wp-block-pullquote cite{color:inherit}.wp-block-post-template{list-style:none;margin-bottom:0;margin-top:0;max-width:100%;padding:0}.wp-block-post-template.wp-block-post-template{background:none}.wp-block-post-template.is-flex-container{display:flex;flex-direction:row;flex-wrap:wrap;gap:1.25em}.wp-block-post-template.is-flex-container>li{margin:0;width:100%}@media (min-width:600px){.wp-block-post-template.is-flex-container.is-flex-container.columns-2>li{width:calc(50% - .625em)}.wp-block-post-template.is-flex-container.is-flex-container.columns-3>li{width:calc(33.33333% - .83333em)}.wp-block-post-template.is-flex-container.is-flex-container.columns-4>li{width:calc(25% - .9375em)}.wp-block-post-template.is-flex-container.is-flex-container.columns-5>li{width:calc(20% - 1em)}.wp-block-post-template.is-flex-container.is-flex-container.columns-6>li{width:calc(16.66667% - 1.04167em)}}@media (max-width:600px){.wp-block-post-template-is-layout-grid.wp-block-post-template-is-layout-grid.wp-block-post-template-is-layout-grid.wp-block-post-template-is-layout-grid{grid-template-columns:1fr}}.wp-block-query-pagination>.wp-block-query-pagination-next,.wp-block-query-pagination>.wp-block-query-pagination-numbers,.wp-block-query-pagination>.wp-block-query-pagination-previous{margin-bottom:.5em;margin-right:.5em}.wp-block-query-pagination>.wp-block-query-pagination-next:last-child,.wp-block-query-pagination>.wp-block-query-pagination-numbers:last-child,.wp-block-query-pagination>.wp-block-query-pagination-previous:last-child{margin-right:0}.wp-block-query-pagination.is-content-justification-space-between>.wp-block-query-pagination-next:last-of-type{margin-inline-start:auto}.wp-block-query-pagination.is-content-justification-space-between>.wp-block-query-pagination-previous:first-child{margin-inline-end:auto}.wp-block-query-pagination .wp-block-query-pagination-previous-arrow{display:inline-block;margin-right:1ch}.wp-block-query-pagination .wp-block-query-pagination-previous-arrow:not(.is-arrow-chevron){transform:scaleX(1)}.wp-block-query-pagination .wp-block-query-pagination-next-arrow{display:inline-block;margin-left:1ch}.wp-block-query-pagination .wp-block-query-pagination-next-arrow:not(.is-arrow-chevron){transform:scaleX(1)}.wp-block-query-pagination.aligncenter{justify-content:center}.wp-block-query-title,.wp-block-quote{box-sizing:border-box}.wp-block-quote{overflow-wrap:break-word}.wp-block-quote.is-large:where(:not(.is-style-plain)),.wp-block-quote.is-style-large:where(:not(.is-style-plain)){margin-bottom:1em;padding:0 1em}.wp-block-quote.is-large:where(:not(.is-style-plain)) p,.wp-block-quote.is-style-large:where(:not(.is-style-plain)) p{font-size:1.5em;font-style:italic;line-height:1.6}.wp-block-quote.is-large:where(:not(.is-style-plain)) cite,.wp-block-quote.is-large:where(:not(.is-style-plain)) footer,.wp-block-quote.is-style-large:where(:not(.is-style-plain)) cite,.wp-block-quote.is-style-large:where(:not(.is-style-plain)) footer{font-size:1.125em;text-align:right}.wp-block-read-more{display:block;width:-moz-fit-content;width:fit-content}.wp-block-read-more:not([style*=text-decoration]),.wp-block-read-more:not([style*=text-decoration]):active,.wp-block-read-more:not([style*=text-decoration]):focus{text-decoration:none}ul.wp-block-rss{list-style:none;padding:0}ul.wp-block-rss.wp-block-rss{box-sizing:border-box}ul.wp-block-rss.alignleft{margin-right:2em}ul.wp-block-rss.alignright{margin-left:2em}ul.wp-block-rss.is-grid{display:flex;flex-wrap:wrap;list-style:none;padding:0}ul.wp-block-rss.is-grid li{margin:0 1em 1em 0;width:100%}@media (min-width:600px){ul.wp-block-rss.columns-2 li{width:calc(50% - 1em)}ul.wp-block-rss.columns-3 li{width:calc(33.33333% - 1em)}ul.wp-block-rss.columns-4 li{width:calc(25% - 1em)}ul.wp-block-rss.columns-5 li{width:calc(20% - 1em)}ul.wp-block-rss.columns-6 li{width:calc(16.66667% - 1em)}}.wp-block-rss__item-author,.wp-block-rss__item-publish-date{display:block;font-size:.8125em}.wp-block-search__button{margin-left:10px;word-break:normal}.wp-block-search__button.has-icon{line-height:0}.wp-block-search__button svg{fill:currentColor;min-height:24px;min-width:24px;vertical-align:text-bottom}:where(.wp-block-search__button){border:1px solid #ccc;padding:6px 10px}.wp-block-search__inside-wrapper{display:flex;flex:auto;flex-wrap:nowrap;max-width:100%}.wp-block-search__label{width:100%}.wp-block-search__input{-webkit-appearance:initial;appearance:none;border:1px solid #949494;flex-grow:1;margin-left:0;margin-right:0;min-width:3rem;padding:8px;text-decoration:unset!important}.wp-block-search.wp-block-search__button-only .wp-block-search__button{margin-left:0}:where(.wp-block-search__button-inside .wp-block-search__inside-wrapper){border:1px solid #949494;box-sizing:border-box;padding:4px}:where(.wp-block-search__button-inside .wp-block-search__inside-wrapper) .wp-block-search__input{border:none;border-radius:0;padding:0 4px}:where(.wp-block-search__button-inside .wp-block-search__inside-wrapper) .wp-block-search__input:focus{outline:none}:where(.wp-block-search__button-inside .wp-block-search__inside-wrapper) :where(.wp-block-search__button){padding:4px 8px}.wp-block-search.aligncenter .wp-block-search__inside-wrapper{margin:auto}.wp-block-search__button-behavior-expand .wp-block-search__inside-wrapper{min-width:0!important;transition-property:width}.wp-block-search__button-behavior-expand .wp-block-search__input{flex-basis:100%;transition-duration:.3s}.wp-block-search__button-behavior-expand.wp-block-search__searchfield-hidden,.wp-block-search__button-behavior-expand.wp-block-search__searchfield-hidden .wp-block-search__inside-wrapper{overflow:hidden}.wp-block-search__button-behavior-expand.wp-block-search__searchfield-hidden .wp-block-search__input{border-left-width:0!important;border-right-width:0!important;flex-basis:0;flex-grow:0;margin:0;min-width:0!important;padding-left:0!important;padding-right:0!important;width:0!important}.wp-block[data-align=right] .wp-block-search__button-behavior-expand .wp-block-search__inside-wrapper{float:right}.wp-block-separator{border:1px solid;border-left:none;border-right:none}.wp-block-separator.is-style-dots{background:none!important;border:none;height:auto;line-height:1;text-align:center}.wp-block-separator.is-style-dots:before{color:currentColor;content:"···";font-family:serif;font-size:1.5em;letter-spacing:2em;padding-left:2em}.wp-block-site-logo{box-sizing:border-box;line-height:0}.wp-block-site-logo a{display:inline-block}.wp-block-site-logo.is-default-size img{height:auto;width:120px}.wp-block-site-logo img{height:auto;max-width:100%}.wp-block-site-logo a,.wp-block-site-logo img{border-radius:inherit}.wp-block-site-logo.aligncenter{margin-left:auto;margin-right:auto;text-align:center}.wp-block-site-logo.is-style-rounded{border-radius:9999px}.wp-block-site-title a{color:inherit}.wp-block-social-links{background:none;box-sizing:border-box;margin-left:0;padding-left:0;padding-right:0;text-indent:0}.wp-block-social-links .wp-social-link a,.wp-block-social-links .wp-social-link a:hover{border-bottom:0;box-shadow:none;text-decoration:none}.wp-block-social-links .wp-social-link a{padding:.25em}.wp-block-social-links .wp-social-link svg{height:1em;width:1em}.wp-block-social-links .wp-social-link span:not(.screen-reader-text){font-size:.65em;margin-left:.5em;margin-right:.5em}.wp-block-social-links.has-small-icon-size{font-size:16px}.wp-block-social-links,.wp-block-social-links.has-normal-icon-size{font-size:24px}.wp-block-social-links.has-large-icon-size{font-size:36px}.wp-block-social-links.has-huge-icon-size{font-size:48px}.wp-block-social-links.aligncenter{display:flex;justify-content:center}.wp-block-social-links.alignright{justify-content:flex-end}.wp-block-social-link{border-radius:9999px;display:block;height:auto;transition:transform .1s ease}@media (prefers-reduced-motion:reduce){.wp-block-social-link{transition-delay:0s;transition-duration:0s}}.wp-block-social-link a{align-items:center;display:flex;line-height:0;transition:transform .1s ease}.wp-block-social-link:hover{transform:scale(1.1)}.wp-block-social-links .wp-block-social-link .wp-block-social-link-anchor,.wp-block-social-links .wp-block-social-link .wp-block-social-link-anchor svg,.wp-block-social-links .wp-block-social-link .wp-block-social-link-anchor:active,.wp-block-social-links .wp-block-social-link .wp-block-social-link-anchor:hover,.wp-block-social-links .wp-block-social-link .wp-block-social-link-anchor:visited{fill:currentColor;color:currentColor}.wp-block-social-links:not(.is-style-logos-only) .wp-social-link{background-color:#f0f0f0;color:#444}.wp-block-social-links:not(.is-style-logos-only) .wp-social-link-amazon{background-color:#f90;color:#fff}.wp-block-social-links:not(.is-style-logos-only) .wp-social-link-bandcamp{background-color:#1ea0c3;color:#fff}.wp-block-social-links:not(.is-style-logos-only) .wp-social-link-behance{background-color:#0757fe;color:#fff}.wp-block-social-links:not(.is-style-logos-only) .wp-social-link-codepen{background-color:#1e1f26;color:#fff}.wp-block-social-links:not(.is-style-logos-only) .wp-social-link-deviantart{background-color:#02e49b;color:#fff}.wp-block-social-links:not(.is-style-logos-only) .wp-social-link-dribbble{background-color:#e94c89;color:#fff}.wp-block-social-links:not(.is-style-logos-only) .wp-social-link-dropbox{background-color:#4280ff;color:#fff}.wp-block-social-links:not(.is-style-logos-only) .wp-social-link-etsy{background-color:#f45800;color:#fff}.wp-block-social-links:not(.is-style-logos-only) .wp-social-link-facebook{background-color:#1778f2;color:#fff}.wp-block-social-links:not(.is-style-logos-only) .wp-social-link-fivehundredpx{background-color:#000;color:#fff}.wp-block-social-links:not(.is-style-logos-only) .wp-social-link-flickr{background-color:#0461dd;color:#fff}.wp-block-social-links:not(.is-style-logos-only) .wp-social-link-foursquare{background-color:#e65678;color:#fff}.wp-block-social-links:not(.is-style-logos-only) .wp-social-link-github{background-color:#24292d;color:#fff}.wp-block-social-links:not(.is-style-logos-only) .wp-social-link-goodreads{background-color:#eceadd;color:#382110}.wp-block-social-links:not(.is-style-logos-only) .wp-social-link-google{background-color:#ea4434;color:#fff}.wp-block-social-links:not(.is-style-logos-only) .wp-social-link-instagram{background-color:#f00075;color:#fff}.wp-block-social-links:not(.is-style-logos-only) .wp-social-link-lastfm{background-color:#e21b24;color:#fff}.wp-block-social-links:not(.is-style-logos-only) .wp-social-link-linkedin{background-color:#0d66c2;color:#fff}.wp-block-social-links:not(.is-style-logos-only) .wp-social-link-mastodon{background-color:#3288d4;color:#fff}.wp-block-social-links:not(.is-style-logos-only) .wp-social-link-medium{background-color:#02ab6c;color:#fff}.wp-block-social-links:not(.is-style-logos-only) .wp-social-link-meetup{background-color:#f6405f;color:#fff}.wp-block-social-links:not(.is-style-logos-only) .wp-social-link-patreon{background-color:#ff424d;color:#fff}.wp-block-social-links:not(.is-style-logos-only) .wp-social-link-pinterest{background-color:#e60122;color:#fff}.wp-block-social-links:not(.is-style-logos-only) .wp-social-link-pocket{background-color:#ef4155;color:#fff}.wp-block-social-links:not(.is-style-logos-only) .wp-social-link-reddit{background-color:#ff4500;color:#fff}.wp-block-social-links:not(.is-style-logos-only) .wp-social-link-skype{background-color:#0478d7;color:#fff}.wp-block-social-links:not(.is-style-logos-only) .wp-social-link-snapchat{stroke:#000;background-color:#fefc00;color:#fff}.wp-block-social-links:not(.is-style-logos-only) .wp-social-link-soundcloud{background-color:#ff5600;color:#fff}.wp-block-social-links:not(.is-style-logos-only) .wp-social-link-spotify{background-color:#1bd760;color:#fff}.wp-block-social-links:not(.is-style-logos-only) .wp-social-link-telegram{background-color:#2aabee;color:#fff}.wp-block-social-links:not(.is-style-logos-only) .wp-social-link-tiktok{background-color:#000;color:#fff}.wp-block-social-links:not(.is-style-logos-only) .wp-social-link-tumblr{background-color:#011835;color:#fff}.wp-block-social-links:not(.is-style-logos-only) .wp-social-link-twitch{background-color:#6440a4;color:#fff}.wp-block-social-links:not(.is-style-logos-only) .wp-social-link-twitter{background-color:#1da1f2;color:#fff}.wp-block-social-links:not(.is-style-logos-only) .wp-social-link-vimeo{background-color:#1eb7ea;color:#fff}.wp-block-social-links:not(.is-style-logos-only) .wp-social-link-vk{background-color:#4680c2;color:#fff}.wp-block-social-links:not(.is-style-logos-only) .wp-social-link-wordpress{background-color:#3499cd;color:#fff}.wp-block-social-links:not(.is-style-logos-only) .wp-social-link-whatsapp{background-color:#25d366;color:#fff}.wp-block-social-links:not(.is-style-logos-only) .wp-social-link-yelp{background-color:#d32422;color:#fff}.wp-block-social-links:not(.is-style-logos-only) .wp-social-link-youtube{background-color:red;color:#fff}.wp-block-social-links.is-style-logos-only .wp-social-link{background:none}.wp-block-social-links.is-style-logos-only .wp-social-link a{padding:0}.wp-block-social-links.is-style-logos-only .wp-social-link svg{height:1.25em;width:1.25em}.wp-block-social-links.is-style-logos-only .wp-social-link-amazon{color:#f90}.wp-block-social-links.is-style-logos-only .wp-social-link-bandcamp{color:#1ea0c3}.wp-block-social-links.is-style-logos-only .wp-social-link-behance{color:#0757fe}.wp-block-social-links.is-style-logos-only .wp-social-link-codepen{color:#1e1f26}.wp-block-social-links.is-style-logos-only .wp-social-link-deviantart{color:#02e49b}.wp-block-social-links.is-style-logos-only .wp-social-link-dribbble{color:#e94c89}.wp-block-social-links.is-style-logos-only .wp-social-link-dropbox{color:#4280ff}.wp-block-social-links.is-style-logos-only .wp-social-link-etsy{color:#f45800}.wp-block-social-links.is-style-logos-only .wp-social-link-facebook{color:#1778f2}.wp-block-social-links.is-style-logos-only .wp-social-link-fivehundredpx{color:#000}.wp-block-social-links.is-style-logos-only .wp-social-link-flickr{color:#0461dd}.wp-block-social-links.is-style-logos-only .wp-social-link-foursquare{color:#e65678}.wp-block-social-links.is-style-logos-only .wp-social-link-github{color:#24292d}.wp-block-social-links.is-style-logos-only .wp-social-link-goodreads{color:#382110}.wp-block-social-links.is-style-logos-only .wp-social-link-google{color:#ea4434}.wp-block-social-links.is-style-logos-only .wp-social-link-instagram{color:#f00075}.wp-block-social-links.is-style-logos-only .wp-social-link-lastfm{color:#e21b24}.wp-block-social-links.is-style-logos-only .wp-social-link-linkedin{color:#0d66c2}.wp-block-social-links.is-style-logos-only .wp-social-link-mastodon{color:#3288d4}.wp-block-social-links.is-style-logos-only .wp-social-link-medium{color:#02ab6c}.wp-block-social-links.is-style-logos-only .wp-social-link-meetup{color:#f6405f}.wp-block-social-links.is-style-logos-only .wp-social-link-patreon{color:#ff424d}.wp-block-social-links.is-style-logos-only .wp-social-link-pinterest{color:#e60122}.wp-block-social-links.is-style-logos-only .wp-social-link-pocket{color:#ef4155}.wp-block-social-links.is-style-logos-only .wp-social-link-reddit{color:#ff4500}.wp-block-social-links.is-style-logos-only .wp-social-link-skype{color:#0478d7}.wp-block-social-links.is-style-logos-only .wp-social-link-snapchat{stroke:#000;color:#fff}.wp-block-social-links.is-style-logos-only .wp-social-link-soundcloud{color:#ff5600}.wp-block-social-links.is-style-logos-only .wp-social-link-spotify{color:#1bd760}.wp-block-social-links.is-style-logos-only .wp-social-link-telegram{color:#2aabee}.wp-block-social-links.is-style-logos-only .wp-social-link-tiktok{color:#000}.wp-block-social-links.is-style-logos-only .wp-social-link-tumblr{color:#011835}.wp-block-social-links.is-style-logos-only .wp-social-link-twitch{color:#6440a4}.wp-block-social-links.is-style-logos-only .wp-social-link-twitter{color:#1da1f2}.wp-block-social-links.is-style-logos-only .wp-social-link-vimeo{color:#1eb7ea}.wp-block-social-links.is-style-logos-only .wp-social-link-vk{color:#4680c2}.wp-block-social-links.is-style-logos-only .wp-social-link-whatsapp{color:#25d366}.wp-block-social-links.is-style-logos-only .wp-social-link-wordpress{color:#3499cd}.wp-block-social-links.is-style-logos-only .wp-social-link-yelp{color:#d32422}.wp-block-social-links.is-style-logos-only .wp-social-link-youtube{color:red}.wp-block-social-links.is-style-pill-shape .wp-social-link{width:auto}.wp-block-social-links.is-style-pill-shape .wp-social-link a{padding-left:.66667em;padding-right:.66667em}.wp-block-social-links:not(.has-icon-color):not(.has-icon-background-color) .wp-social-link-snapchat .wp-block-social-link-label{color:#000}.wp-block-spacer{clear:both}.wp-block-tag-cloud{box-sizing:border-box}.wp-block-tag-cloud.aligncenter{justify-content:center;text-align:center}.wp-block-tag-cloud.alignfull{padding-left:1em;padding-right:1em}.wp-block-tag-cloud a{display:inline-block;margin-right:5px}.wp-block-tag-cloud span{display:inline-block;margin-left:5px;text-decoration:none}.wp-block-tag-cloud.is-style-outline{display:flex;flex-wrap:wrap;gap:1ch}.wp-block-tag-cloud.is-style-outline a{border:1px solid;font-size:unset!important;margin-right:0;padding:1ch 2ch;text-decoration:none!important}.wp-block-table{overflow-x:auto}.wp-block-table table{border-collapse:collapse;width:100%}.wp-block-table thead{border-bottom:3px solid}.wp-block-table tfoot{border-top:3px solid}.wp-block-table td,.wp-block-table th{border:1px solid;padding:.5em}.wp-block-table .has-fixed-layout{table-layout:fixed;width:100%}.wp-block-table .has-fixed-layout td,.wp-block-table .has-fixed-layout th{word-break:break-word}.wp-block-table.aligncenter,.wp-block-table.alignleft,.wp-block-table.alignright{display:table;width:auto}.wp-block-table.aligncenter td,.wp-block-table.aligncenter th,.wp-block-table.alignleft td,.wp-block-table.alignleft th,.wp-block-table.alignright td,.wp-block-table.alignright th{word-break:break-word}.wp-block-table .has-subtle-light-gray-background-color{background-color:#f3f4f5}.wp-block-table .has-subtle-pale-green-background-color{background-color:#e9fbe5}.wp-block-table .has-subtle-pale-blue-background-color{background-color:#e7f5fe}.wp-block-table .has-subtle-pale-pink-background-color{background-color:#fcf0ef}.wp-block-table.is-style-stripes{background-color:transparent;border-bottom:1px solid #f0f0f0;border-collapse:inherit;border-spacing:0}.wp-block-table.is-style-stripes tbody tr:nth-child(odd){background-color:#f0f0f0}.wp-block-table.is-style-stripes.has-subtle-light-gray-background-color tbody tr:nth-child(odd){background-color:#f3f4f5}.wp-block-table.is-style-stripes.has-subtle-pale-green-background-color tbody tr:nth-child(odd){background-color:#e9fbe5}.wp-block-table.is-style-stripes.has-subtle-pale-blue-background-color tbody tr:nth-child(odd){background-color:#e7f5fe}.wp-block-table.is-style-stripes.has-subtle-pale-pink-background-color tbody tr:nth-child(odd){background-color:#fcf0ef}.wp-block-table.is-style-stripes td,.wp-block-table.is-style-stripes th{border-color:transparent}.wp-block-table .has-border-color td,.wp-block-table .has-border-color th,.wp-block-table .has-border-color tr,.wp-block-table .has-border-color>*{border-color:inherit}.wp-block-table table[style*=border-top-color] tr:first-child,.wp-block-table table[style*=border-top-color] tr:first-child td,.wp-block-table table[style*=border-top-color] tr:first-child th,.wp-block-table table[style*=border-top-color]>*,.wp-block-table table[style*=border-top-color]>* td,.wp-block-table table[style*=border-top-color]>* th{border-top-color:inherit}.wp-block-table table[style*=border-top-color] tr:not(:first-child){border-top-color:currentColor}.wp-block-table table[style*=border-right-color] td:last-child,.wp-block-table table[style*=border-right-color] th,.wp-block-table table[style*=border-right-color] tr,.wp-block-table table[style*=border-right-color]>*{border-right-color:inherit}.wp-block-table table[style*=border-bottom-color] tr:last-child,.wp-block-table table[style*=border-bottom-color] tr:last-child td,.wp-block-table table[style*=border-bottom-color] tr:last-child th,.wp-block-table table[style*=border-bottom-color]>*,.wp-block-table table[style*=border-bottom-color]>* td,.wp-block-table table[style*=border-bottom-color]>* th{border-bottom-color:inherit}.wp-block-table table[style*=border-bottom-color] tr:not(:last-child){border-bottom-color:currentColor}.wp-block-table table[style*=border-left-color] td:first-child,.wp-block-table table[style*=border-left-color] th,.wp-block-table table[style*=border-left-color] tr,.wp-block-table table[style*=border-left-color]>*{border-left-color:inherit}.wp-block-table table[style*=border-style] td,.wp-block-table table[style*=border-style] th,.wp-block-table table[style*=border-style] tr,.wp-block-table table[style*=border-style]>*{border-style:inherit}.wp-block-table table[style*=border-width] td,.wp-block-table table[style*=border-width] th,.wp-block-table table[style*=border-width] tr,.wp-block-table table[style*=border-width]>*{border-style:inherit;border-width:inherit}:where(.wp-block-term-description){margin-bottom:var(--wp--style--block-gap);margin-top:var(--wp--style--block-gap)}.wp-block-term-description p{margin-bottom:0;margin-top:0}.wp-block-text-columns,.wp-block-text-columns.aligncenter{display:flex}.wp-block-text-columns .wp-block-column{margin:0 1em;padding:0}.wp-block-text-columns .wp-block-column:first-child{margin-left:0}.wp-block-text-columns .wp-block-column:last-child{margin-right:0}.wp-block-text-columns.columns-2 .wp-block-column{width:50%}.wp-block-text-columns.columns-3 .wp-block-column{width:33.33333%}.wp-block-text-columns.columns-4 .wp-block-column{width:25%}pre.wp-block-verse{overflow:auto;white-space:pre-wrap}:where(pre.wp-block-verse){font-family:inherit}.wp-block-video{box-sizing:border-box}.wp-block-video video{width:100%}@supports (position:sticky){.wp-block-video [poster]{object-fit:cover}}.wp-block-video.aligncenter{text-align:center}.wp-block-video figcaption{margin-bottom:1em;margin-top:.5em}.editor-styles-wrapper,.entry-content{counter-reset:footnotes}a[data-fn].fn{counter-increment:footnotes;display:inline-flex;font-size:smaller;text-decoration:none;text-indent:-9999999px;vertical-align:super}a[data-fn].fn:after{content:"[" counter(footnotes) "]";float:left;text-indent:0}.wp-element-button{cursor:pointer}:root{--wp--preset--font-size--normal:16px;--wp--preset--font-size--huge:42px}:root .has-very-light-gray-background-color{background-color:#eee}:root .has-very-dark-gray-background-color{background-color:#313131}:root .has-very-light-gray-color{color:#eee}:root .has-very-dark-gray-color{color:#313131}:root .has-vivid-green-cyan-to-vivid-cyan-blue-gradient-background{background:linear-gradient(135deg,#00d084,#0693e3)}:root .has-purple-crush-gradient-background{background:linear-gradient(135deg,#34e2e4,#4721fb 50%,#ab1dfe)}:root .has-hazy-dawn-gradient-background{background:linear-gradient(135deg,#faaca8,#dad0ec)}:root .has-subdued-olive-gradient-background{background:linear-gradient(135deg,#fafae1,#67a671)}:root .has-atomic-cream-gradient-background{background:linear-gradient(135deg,#fdd79a,#004a59)}:root .has-nightshade-gradient-background{background:linear-gradient(135deg,#330968,#31cdcf)}:root .has-midnight-gradient-background{background:linear-gradient(135deg,#020381,#2874fc)}.has-regular-font-size{font-size:1em}.has-larger-font-size{font-size:2.625em}.has-normal-font-size{font-size:var(--wp--preset--font-size--normal)}.has-huge-font-size{font-size:var(--wp--preset--font-size--huge)}.has-text-align-center{text-align:center}.has-text-align-left{text-align:left}.has-text-align-right{text-align:right}#end-resizable-editor-section{display:none}.aligncenter{clear:both}.items-justified-left{justify-content:flex-start}.items-justified-center{justify-content:center}.items-justified-right{justify-content:flex-end}.items-justified-space-between{justify-content:space-between}.screen-reader-text{clip:rect(1px,1px,1px,1px);word-wrap:normal!important;border:0;-webkit-clip-path:inset(50%);clip-path:inset(50%);height:1px;margin:-1px;overflow:hidden;padding:0;position:absolute;width:1px}.screen-reader-text:focus{clip:auto!important;background-color:#ddd;-webkit-clip-path:none;clip-path:none;color:#444;display:block;font-size:1em;height:auto;left:5px;line-height:normal;padding:15px 23px 14px;text-decoration:none;top:5px;width:auto;z-index:100000}html :where(.has-border-color){border-style:solid}html :where([style*=border-top-color]){border-top-style:solid}html :where([style*=border-right-color]){border-right-style:solid}html :where([style*=border-bottom-color]){border-bottom-style:solid}html :where([style*=border-left-color]){border-left-style:solid}html :where([style*=border-width]){border-style:solid}html :where([style*=border-top-width]){border-top-style:solid}html :where([style*=border-right-width]){border-right-style:solid}html :where([style*=border-bottom-width]){border-bottom-style:solid}html :where([style*=border-left-width]){border-left-style:solid}html :where(img[class*=wp-image-]){height:auto;max-width:100%}:where(figure){margin:0 0 1em}html :where(.is-position-sticky){--wp-admin--admin-bar--position-offset:var(--wp-admin--admin-bar--height,0px)}@media screen and (max-width:600px){html:where(.is-position-sticky){--wp-admin--admin-bar--position-offset:0px}}/*]]>*/
URL: mulberry.com

Client: Mulberry

Date: May 2016 - present

Location: Hybrid (UK)

Duration: 7 years

My Role: UX Designer

Deliverables: UX audits, strategy, sitemaps, user journeys, wireframes, prototypes
Since April 2016, I've been consulting for Mulberry as a freelance UX Designer focusing on improving usability, accessibility, conversion (CRO) and the overall user experience.
I've worked on average for 5 days per month, alongside my work for other clients.
I was initially contracted to undertake a UX audit of the 2015 website which had been redesigned by King & Partners. Impressed by my work, I was retained by the business in a consultant capacity.
Fast-forward seven years, and I have (pretty much) worked across every aspect of the current website including:
Navigation and search

Pre-checkout experience (homepage, product listing, details, shopping bag, wish list)

Checkout

My Account

Hygiene (store locator, collect in-store)

Journal (Editorial/blog)

Campaigns/fashion weeks

Ad-hoc events (Japan AR experience)

Emails (transactional and marketing)

GDPR Compliance

Investor Relations
More recently, I have also been a central member of the UX team, as part of the forthcoming (at the time of writing) website relaunch and digital transformation project.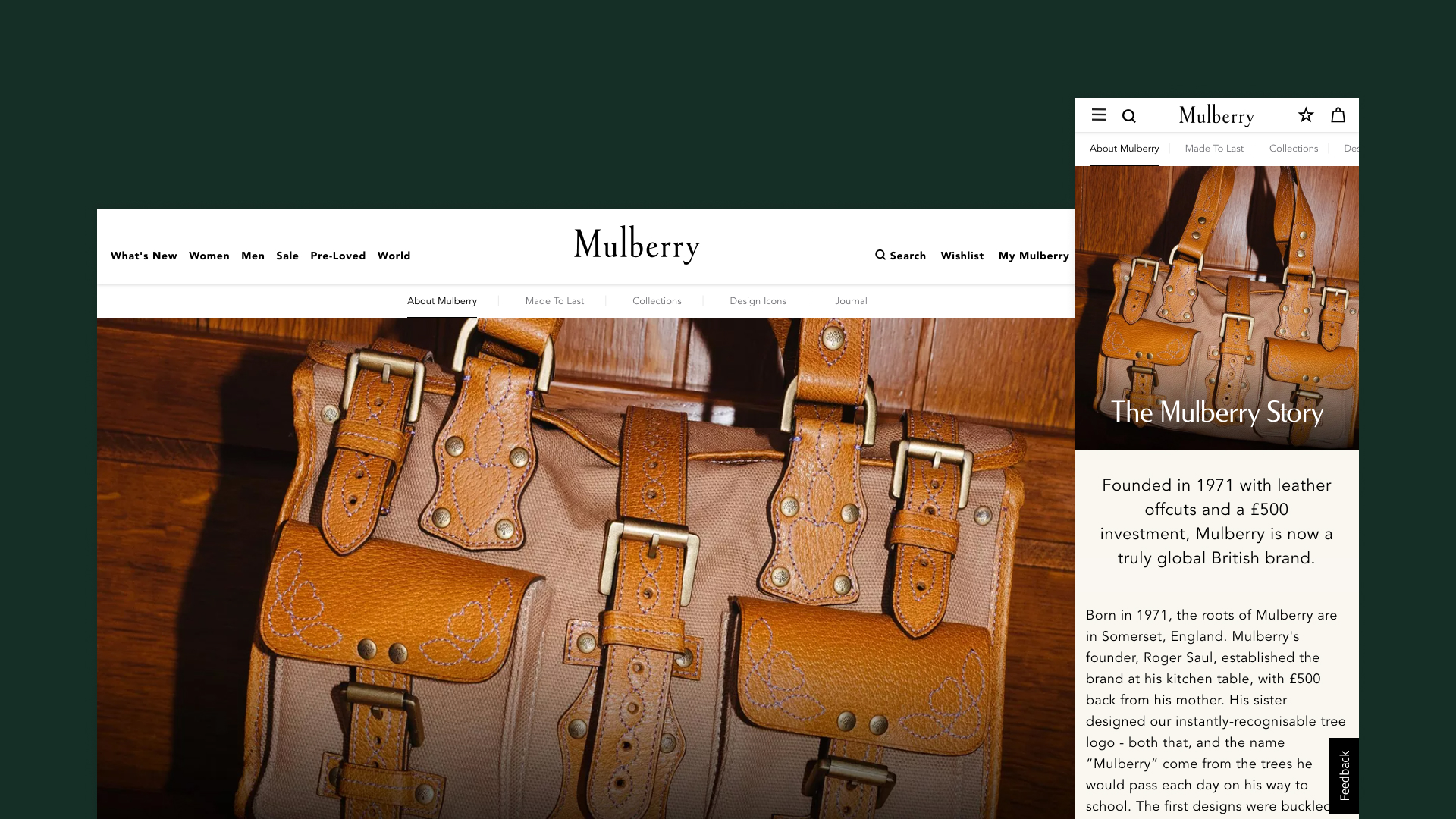 Highlights
There is simply too much work to include everything here. Instead, I've included some project highlights to demonstrate the breadth and depth of my experience, the key challenges and how my role has evolved over time.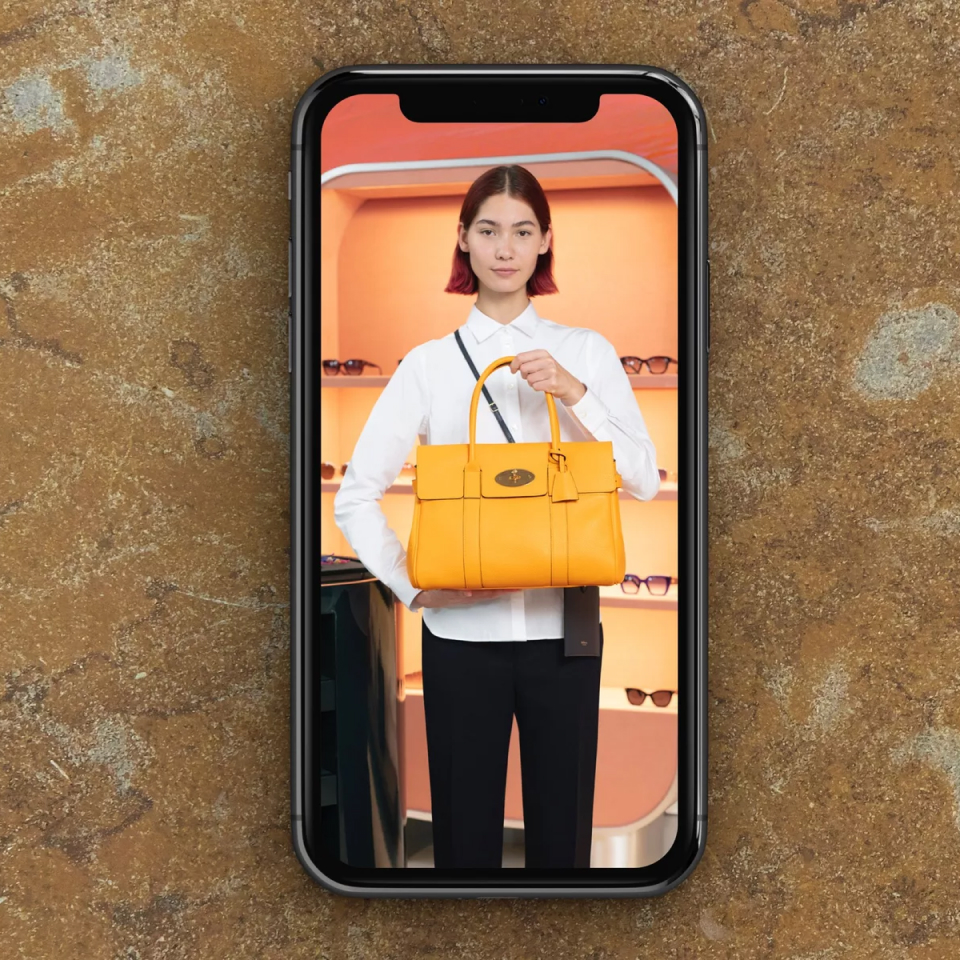 2022-2023
Website Redesign
Although I can't yet share any visuals from this project (as it isn't yet in the public domain), I have been an integral part of the UX team throughout this 18-month project.
In early 2022, I initially acted as a consultant. I evaluated the external agency's UX work to ensure it met the needs of both the business and customers.
When the project was brought back in-house in late 2022, I became responsible for all the UX output.
As the project has evolved throughout 2023, our UX team has expanded and I now work alongside another UX designer, Wayne to co-manage the UX function. This project will go live towards the end of 2023 when I can share a complete case study.
2020 & 2021
Bag Spa, Exchange & Preloved
As part of the shift to more sustainable production and a circular business model, Mulberry introduced several initiatives from 2020 onwards to enable customers to repair, resell and purchase reconditioned products.
I worked alongside the customer experience manager to design the user flows and wireframes as well as collaborate with the in-house developer to integrate these into the website.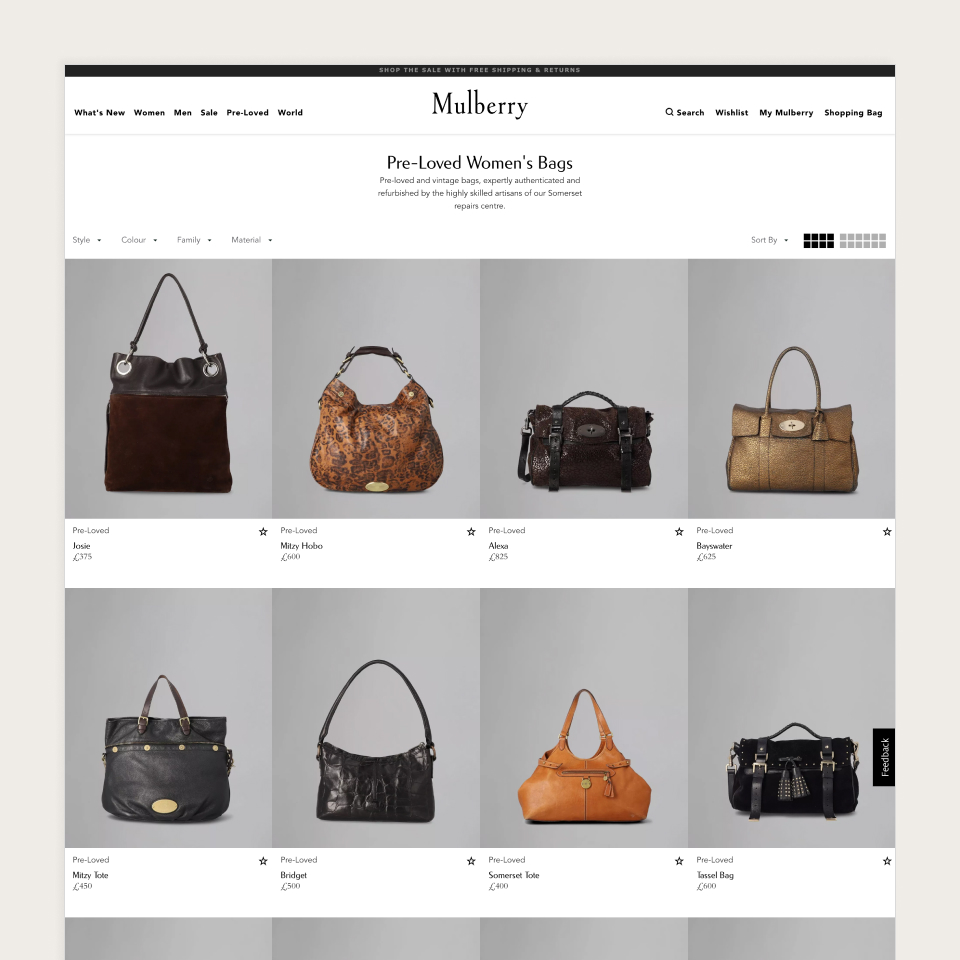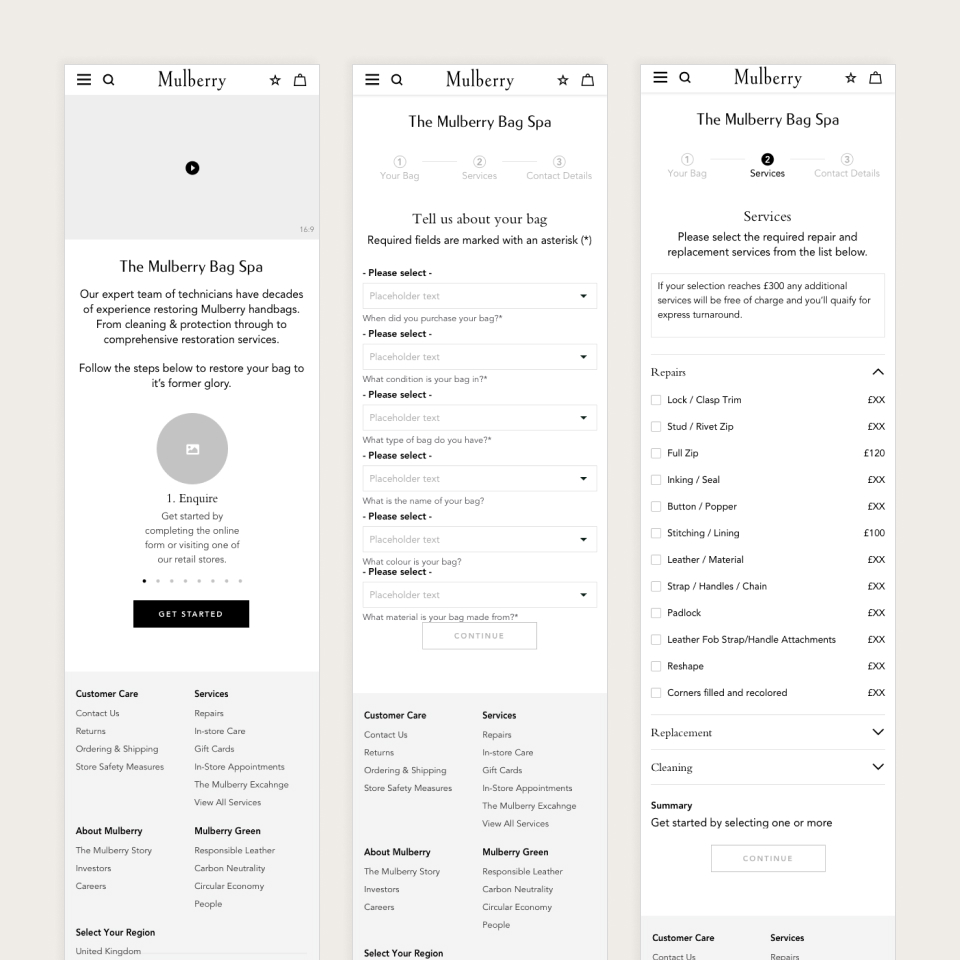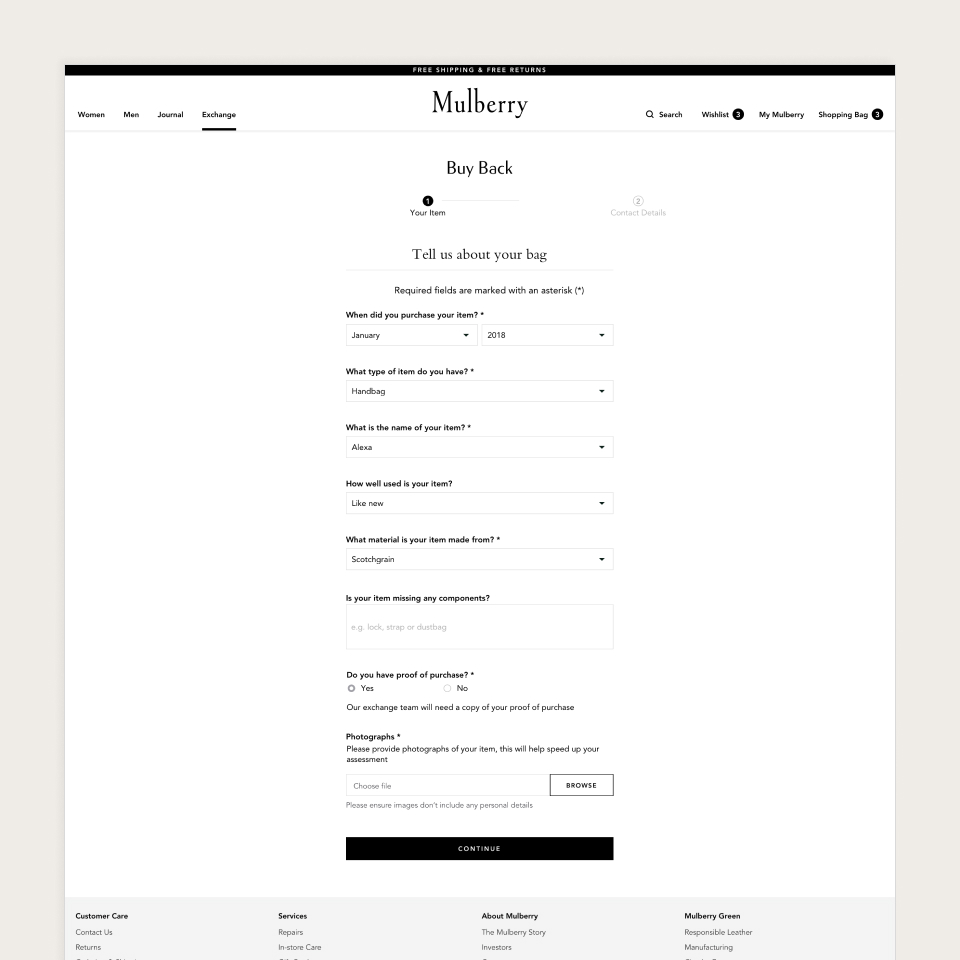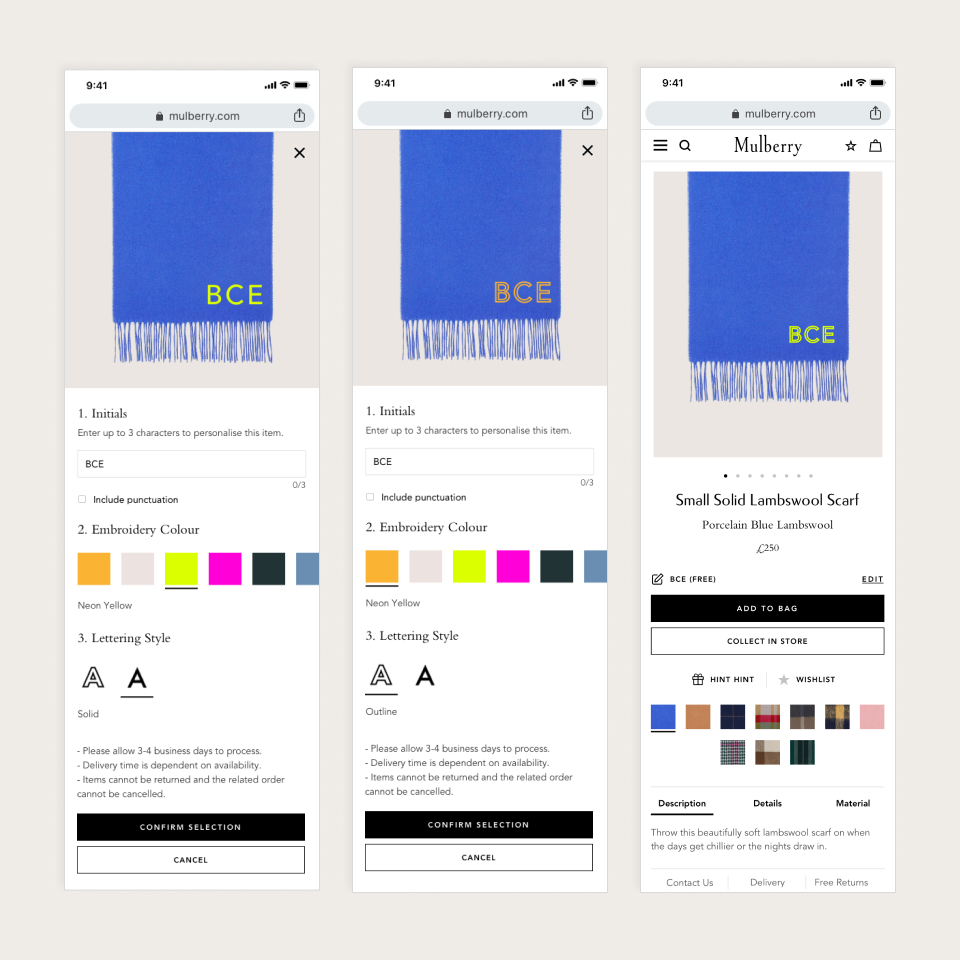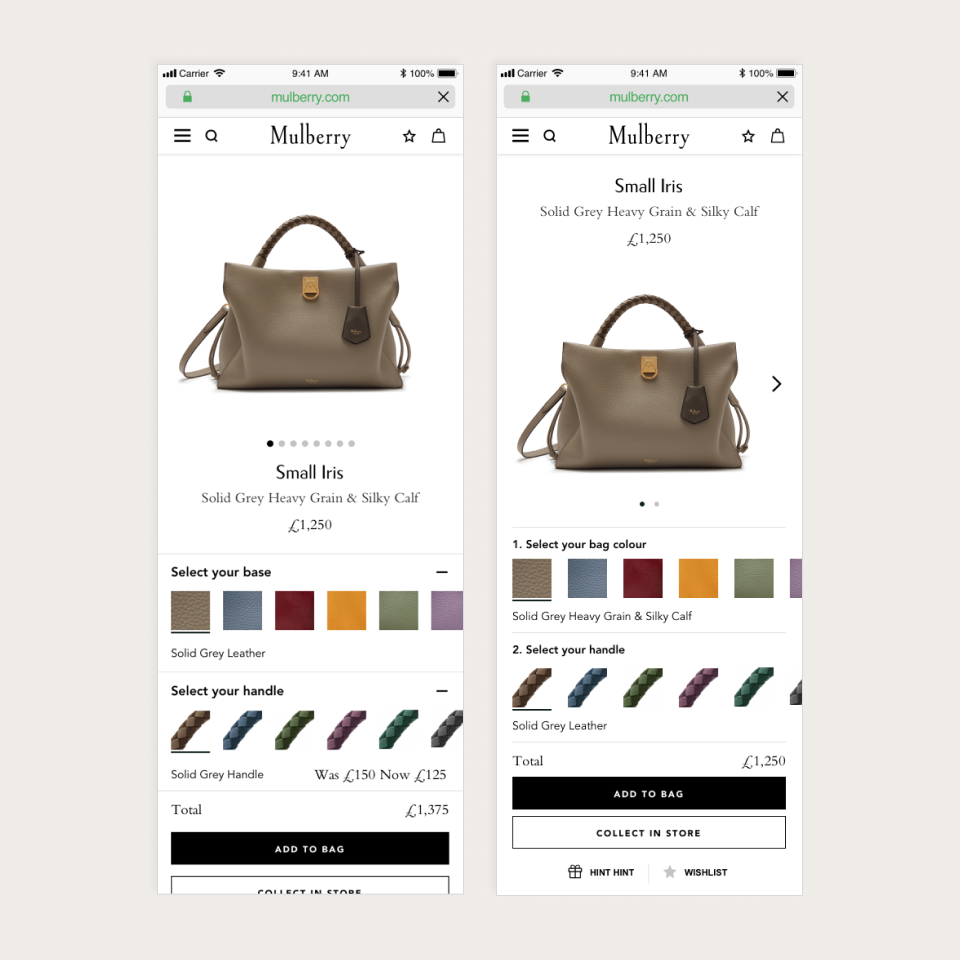 2019 & 2021
Personalised Products
Adapting to consumer demand and competitor activity, 2019 brought about the launch of several personalised products: The Iris and Bag stickers. In 2021, Mulberry went one step further and introduced monogramming.
My work involved working with the product manager, Hazel to map the complexities and flows associated with these products. I then distilled this information and created a series of wireframes and prototypes. These were tested within the company and the preferred route was taken forward to development.
The key challenge here was to develop a usable and attractive solution that worked well within the existing constraints of the product details pages and back-end systems.
2019
Algolia Search
To facilitate improvements for users in product discovery and conversion, the search functionality was overhauled in 2019, moving from a legacy provider to Algolia.
The front-end experience could be customised regarding UI and UX as part of the offering.
I developed a set of high-fidelity (Sketch) wireframes and simple prototypes to act as visual guidelines, alongside Zeplin for the development partner.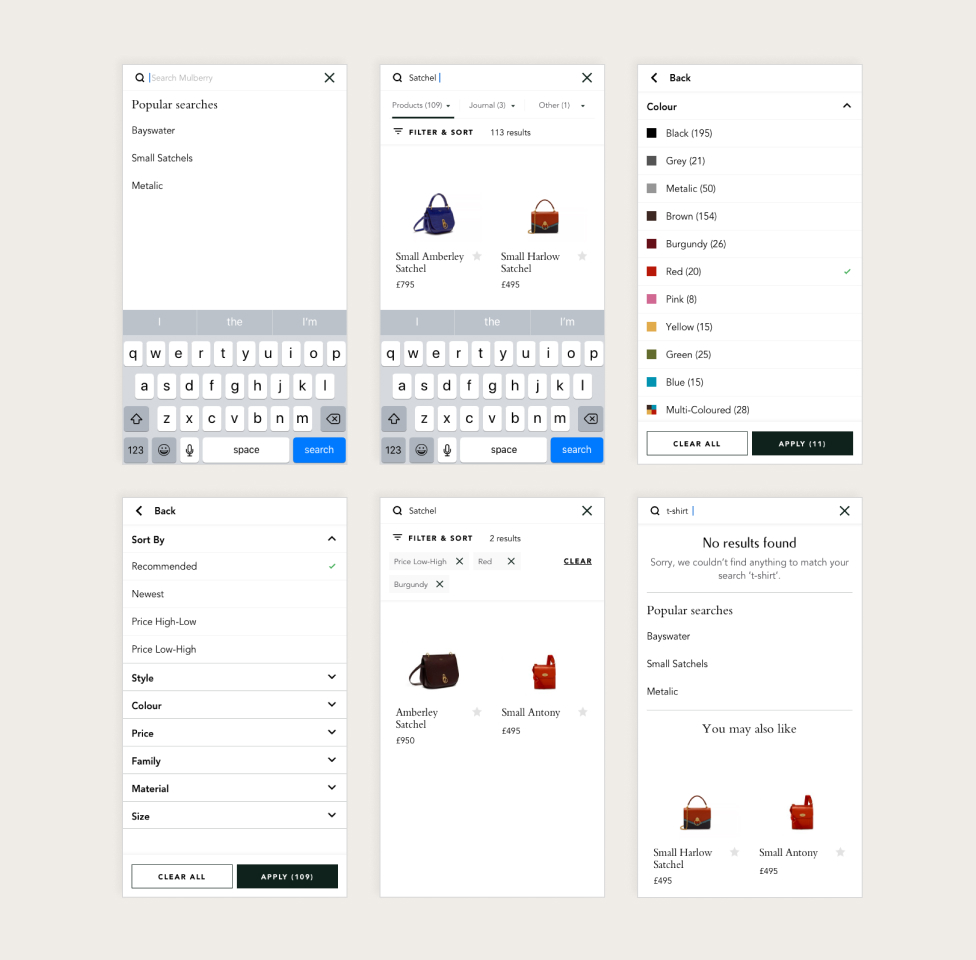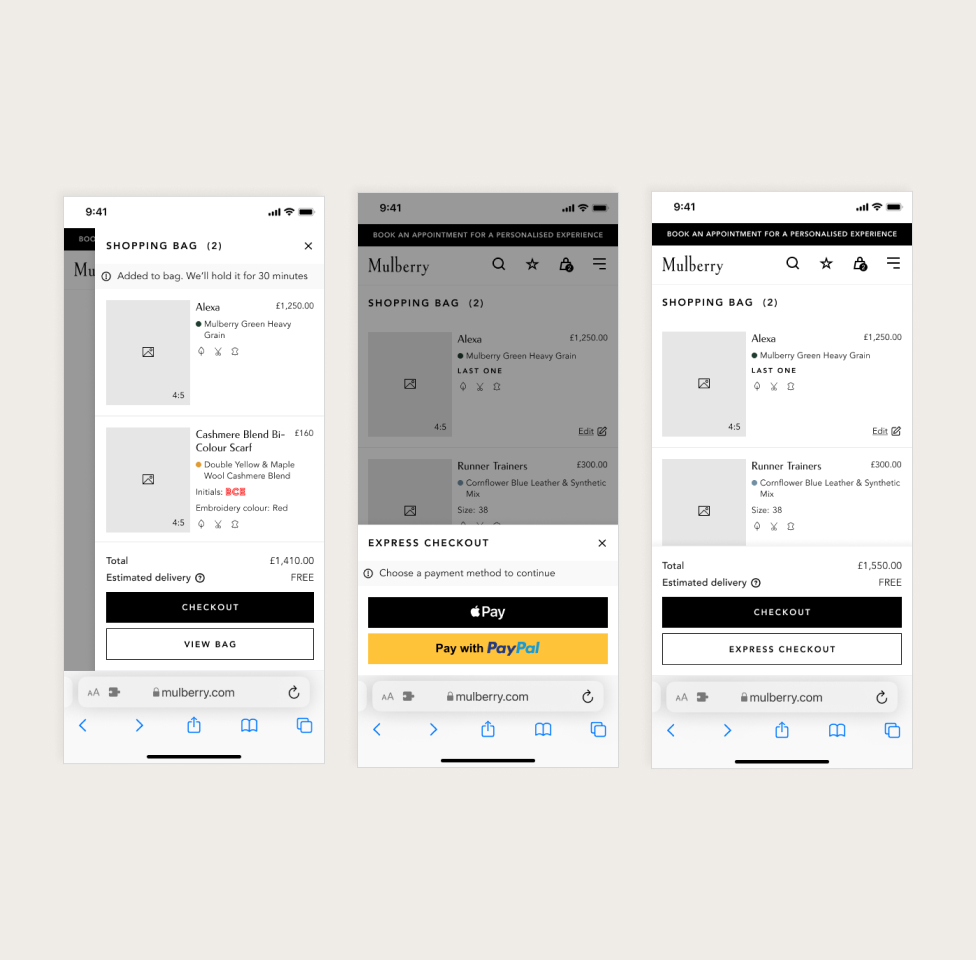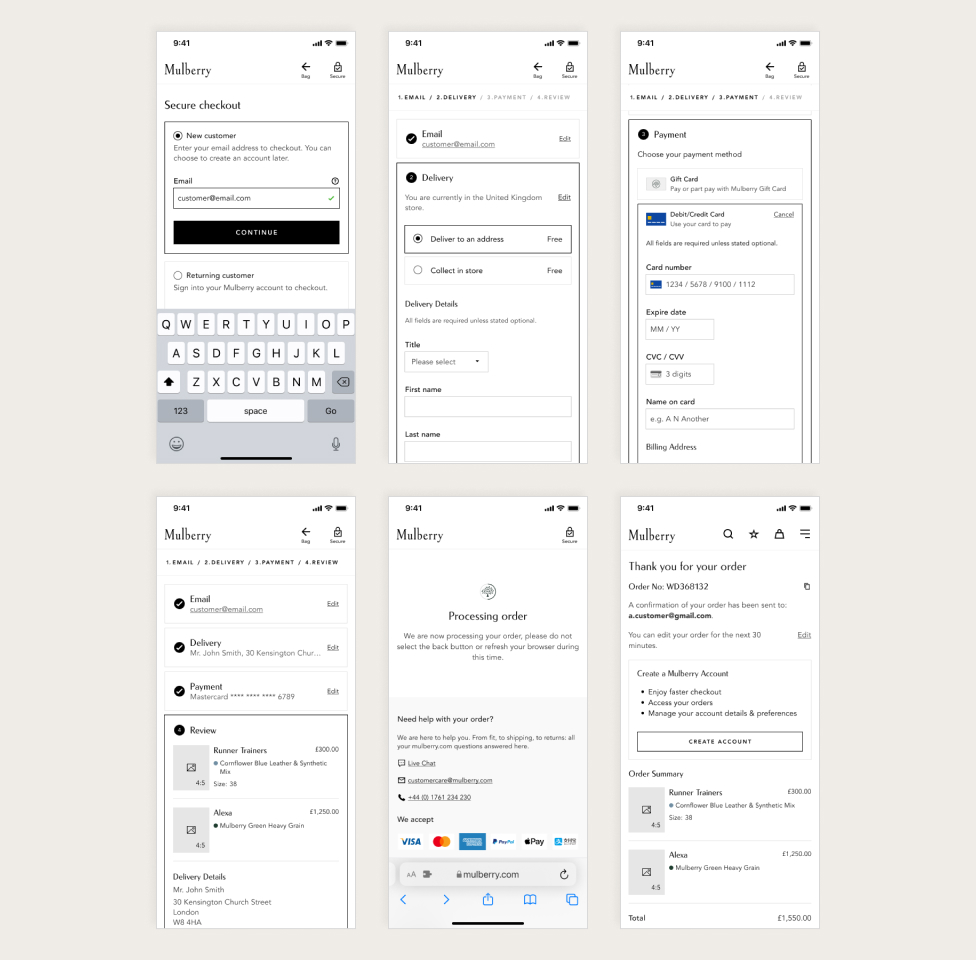 2018
Shopping Bag & Checkout
Our goal was to facilitate fundamental visual and structural improvements to both the shopping bag and checkout.
This involved a thorough audit of the existing experience, competitor analysis and the creation of detailed user journeys and high-fidelity wireframes.
I worked closely with the project manager, Fiona and also collaborated with the technical partner to ensure the design vision was successfully executed.
2016 & 2021
Mobile Navigation
The purpose of this project was to redesign the mobile navigation to improve product discovery and ultimately conversion.
It involved working alongside the project manager, Kiran to uncover insights from google analytics, develop hypotheses for A/B testing and then create the respective (Sketch) wireframes and (Flinto) prototypes.
The outcome was an incremental improvement in the core KPIs.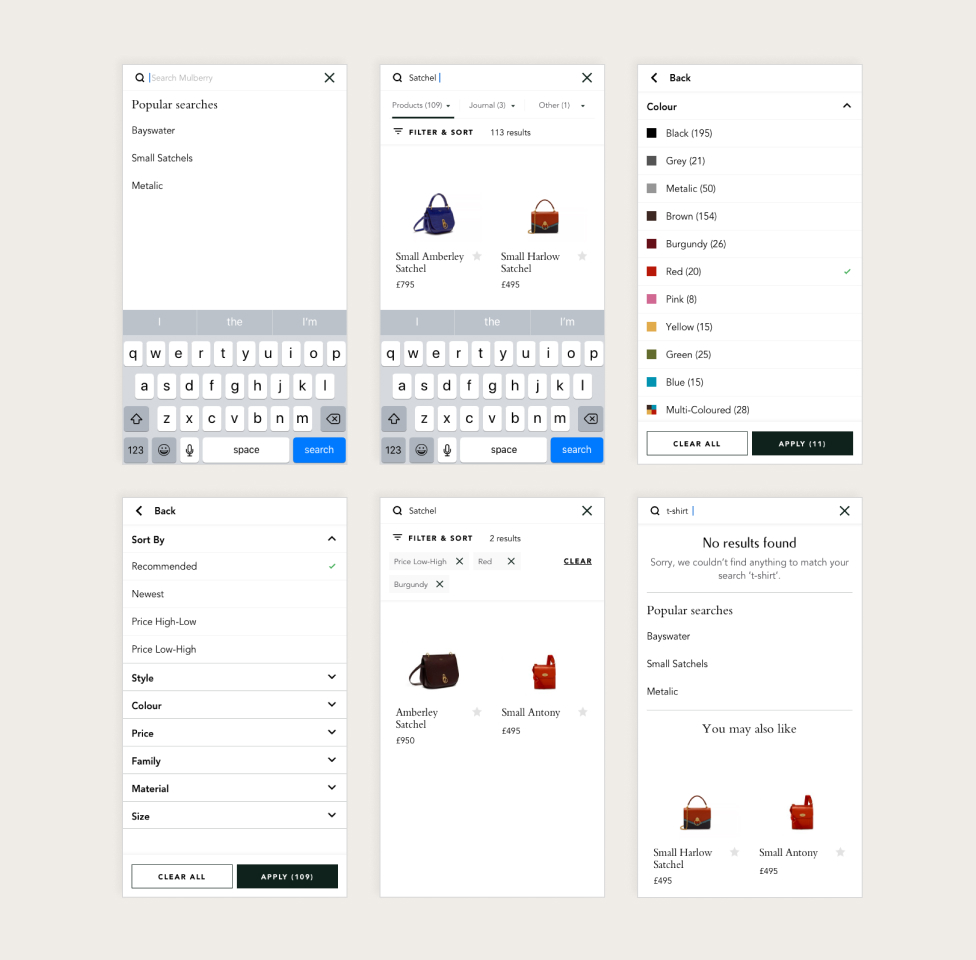 Tools, Process & Deliverables
My output during this time has covered (pretty much) every conceivable UX deliverable, from sitemaps, user journeys, wireframes and prototypes, to UX strategy decks and component libraries.
I've always been a believer in adapting one's tools and approach to achieve the best outcome for a project. My role at Mulberry is a testament to this pragmatic approach.
I initially used a combination of Sketch, Flinto and Zeplin for all UX output. This involved the development of a centralised Sketch symbols library, to ensure I could quickly update large flows and maintain consistency across numerous files.
Since 2020, partly in reaction to the pandemic, but also as design tools have matured and permitted better ways of working, I've transitioned from Sketch to Figma.
I now use a combination of Figma, Maze, Optimizely, Content Square, Confluence and various video conferencing tools in my never-ending quest to improve and optimise my design process and efficiency.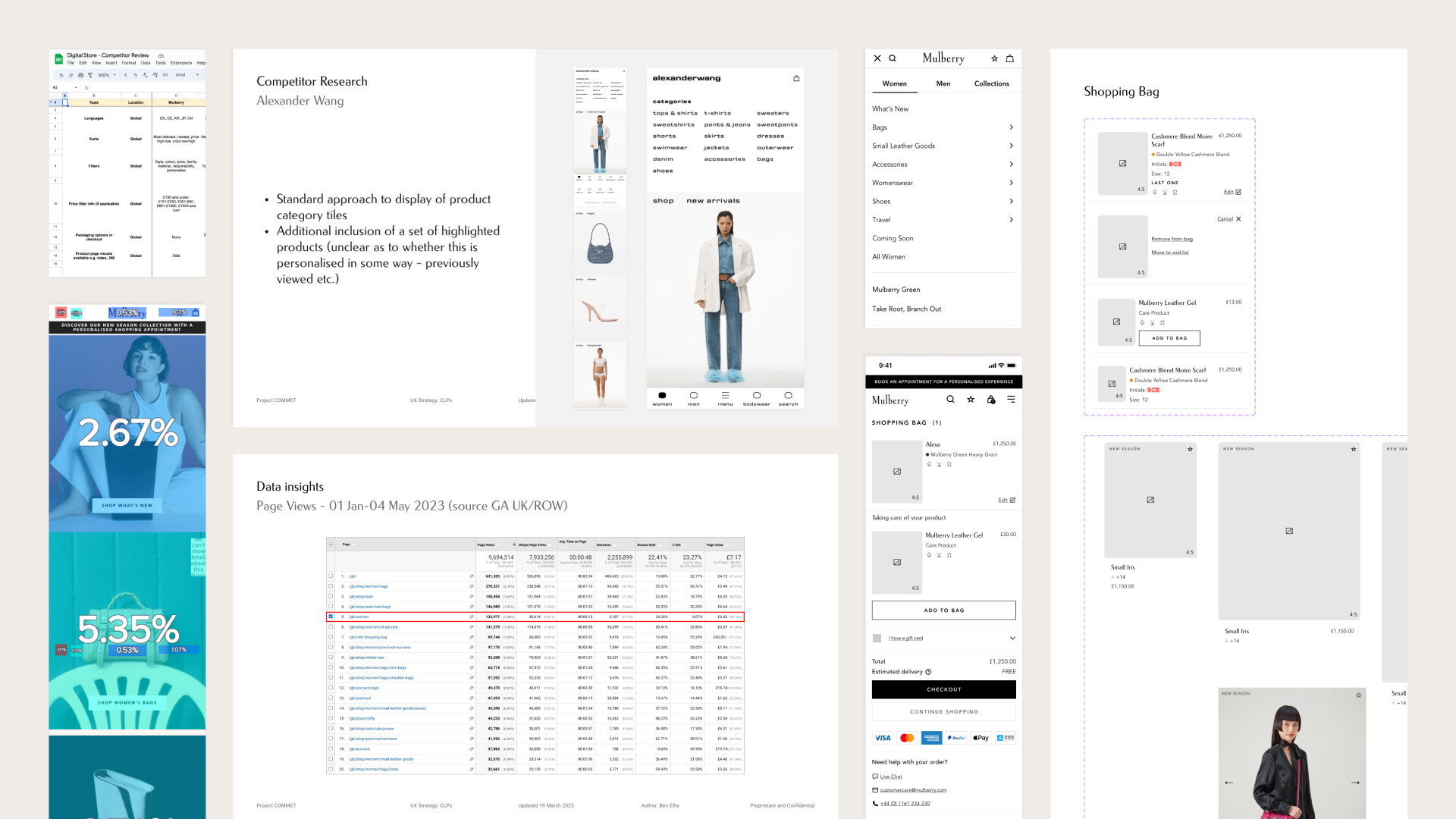 I've encountered many challenges over the past seven years, some good, some not so good, but all have added to the experience and shaped my role and professional progression. Here are some highlights:
Gaining Traction
It takes time to gain traction within an organisation when you are only physically present for 1 day per week. First, you need exposure to the right teams, for those individuals to realise the value you bring and then respect and trust you professionally. This takes time, but it is achievable through perseverance and with a pragmatic, personable approach.
Changing Perceptions
Linked to the first point, is the ability to be able to challenge the way things are done and the perceptions of the importance and place that UX has within design and also luxury fashion as a whole. Again, this takes time and perseverance. However, by repeatedly delivering quality work and building relationships, things can and do change.
User Testing
Oftentimes, projects have had a limited timeframe and budget, and user testing has been viewed as a luxury within the business. Internal user testing has been included as part of various project, but it is disappointing that this hasn't fully been basked into the process.
Data-driven Data
By establishing customer experience as a role within the business and working closely with that department over the past four years, we have managed to elevate the importance of making data-driven design decisions, rather than following trends or stakeholder opinions or preferences. This has ultimately led to better experiences that are more user-friendly and deliver better ROI.
Fragmentation & Lack of Ownership
The digital transformation project, which has its inherent complexities, has been particularly challenging as the scope, vision and teams responsible for delivering the project have changed. It remains to be seen as whether the redesign will meet original expectations and goals. More on this once the project goes live later this year.
In summary, seven years (albeit 5 days per week) is a long time, especially in the world of tech.
During this period I've gained many valuable and transferable skills including:
Development of expert knowledge of e-commerce and luxury fashion

Increasing confidence to present to key stakeholders from across the business

Learning to use common analytics to inform design decisions

Adoption of user and AB testing to inform design decisions

Development of key design documentation, tools and systems

Training internal design teams on how to better use key UX tools e.g. Sketch App

Production of high-quality UX artefacts, maintaining consistency and efficiency through a component-based approach (both Sketch and Figma)

Better communicating design intent and interactions through prototyping (Sketch, Flinto, HTML, Figma)
I continue to consult for Mulberry and am looking forward to seeing what the coming months bring in terms of challenges.