');mask-image:url('data:image/svg+xml;utf8,');mask-mode:alpha;-webkit-mask-position:center;mask-position:center;-webkit-mask-repeat:no-repeat;mask-repeat:no-repeat;-webkit-mask-size:contain;mask-size:contain}}.wp-block-image :where(.has-border-color){border-style:solid}.wp-block-image :where([style*=border-top-color]){border-top-style:solid}.wp-block-image :where([style*=border-right-color]){border-right-style:solid}.wp-block-image :where([style*=border-bottom-color]){border-bottom-style:solid}.wp-block-image :where([style*=border-left-color]){border-left-style:solid}.wp-block-image :where([style*=border-width]){border-style:solid}.wp-block-image :where([style*=border-top-width]){border-top-style:solid}.wp-block-image :where([style*=border-right-width]){border-right-style:solid}.wp-block-image :where([style*=border-bottom-width]){border-bottom-style:solid}.wp-block-image :where([style*=border-left-width]){border-left-style:solid}.wp-block-image figure{margin:0}.wp-lightbox-container .img-container{position:relative}.wp-lightbox-container button{background:none;border:none;cursor:zoom-in;height:100%;position:absolute;width:100%;z-index:100}.wp-lightbox-container button:focus-visible{outline:5px auto #212121;outline:5px auto -webkit-focus-ring-color;outline-offset:5px}.wp-lightbox-overlay{height:100vh;left:0;overflow:hidden;position:fixed;top:0;visibility:hidden;width:100vw;z-index:100000}.wp-lightbox-overlay .close-button{cursor:pointer;padding:0;position:absolute;right:12.5px;top:12.5px;z-index:5000000}.wp-lightbox-overlay .wp-block-image{align-items:center;box-sizing:border-box;display:flex;flex-direction:column;height:100%;justify-content:center;position:absolute;width:100%;z-index:3000000}.wp-lightbox-overlay .wp-block-image figcaption{display:none}.wp-lightbox-overlay .wp-block-image img{max-height:100%;max-width:100%;width:auto}.wp-lightbox-overlay button{background:none;border:none}.wp-lightbox-overlay .scrim{background-color:#fff;height:100%;opacity:.9;position:absolute;width:100%;z-index:2000000}.wp-lightbox-overlay.fade.active{animation:turn-on-visibility .25s both;visibility:visible}.wp-lightbox-overlay.fade.active img{animation:turn-on-visibility .3s both}.wp-lightbox-overlay.fade.hideanimationenabled:not(.active){animation:turn-off-visibility .3s both}.wp-lightbox-overlay.fade.hideanimationenabled:not(.active) img{animation:turn-off-visibility .25s both}.wp-lightbox-overlay.zoom img{height:var(--lightbox-image-max-height);position:absolute;transform-origin:top left;width:var(--lightbox-image-max-width)}.wp-lightbox-overlay.zoom.active{opacity:1;visibility:visible}.wp-lightbox-overlay.zoom.active .wp-block-image img{animation:lightbox-zoom-in .4s forwards}@media (prefers-reduced-motion){.wp-lightbox-overlay.zoom.active .wp-block-image img{animation:turn-on-visibility .4s both}}.wp-lightbox-overlay.zoom.active .scrim{animation:turn-on-visibility .4s forwards}.wp-lightbox-overlay.zoom.hideanimationenabled:not(.active) .wp-block-image img{animation:lightbox-zoom-out .4s forwards}@media (prefers-reduced-motion){.wp-lightbox-overlay.zoom.hideanimationenabled:not(.active) .wp-block-image img{animation:turn-off-visibility .4s both}}.wp-lightbox-overlay.zoom.hideanimationenabled:not(.active) .scrim{animation:turn-off-visibility .4s forwards}html.has-lightbox-open{overflow:hidden}@keyframes turn-on-visibility{0%{opacity:0}to{opacity:1}}@keyframes turn-off-visibility{0%{opacity:1;visibility:visible}99%{opacity:0;visibility:visible}to{opacity:0;visibility:hidden}}@keyframes lightbox-zoom-in{0%{left:var(--lightbox-initial-left-position);top:var(--lightbox-initial-top-position);transform:scale(var(--lightbox-scale-width),var(--lightbox-scale-height))}to{left:var(--lightbox-target-left-position);top:var(--lightbox-target-top-position);transform:scale(1)}}@keyframes lightbox-zoom-out{0%{left:var(--lightbox-target-left-position);top:var(--lightbox-target-top-position);transform:scale(1);visibility:visible}99%{visibility:visible}to{left:var(--lightbox-initial-left-position);top:var(--lightbox-initial-top-position);transform:scale(var(--lightbox-scale-width),var(--lightbox-scale-height))}}ol.wp-block-latest-comments{box-sizing:border-box;margin-left:0}:where(.wp-block-latest-comments:not([style*=line-height] .wp-block-latest-comments__comment)){line-height:1.1}:where(.wp-block-latest-comments:not([style*=line-height] .wp-block-latest-comments__comment-excerpt p)){line-height:1.8}.has-dates :where(.wp-block-latest-comments:not([style*=line-height])),.has-excerpts :where(.wp-block-latest-comments:not([style*=line-height])){line-height:1.5}.wp-block-latest-comments .wp-block-latest-comments{padding-left:0}.wp-block-latest-comments__comment{list-style:none;margin-bottom:1em}.has-avatars .wp-block-latest-comments__comment{list-style:none;min-height:2.25em}.has-avatars .wp-block-latest-comments__comment .wp-block-latest-comments__comment-excerpt,.has-avatars .wp-block-latest-comments__comment .wp-block-latest-comments__comment-meta{margin-left:3.25em}.wp-block-latest-comments__comment-excerpt p{font-size:.875em;margin:.36em 0 1.4em}.wp-block-latest-comments__comment-date{display:block;font-size:.75em}.wp-block-latest-comments .avatar,.wp-block-latest-comments__comment-avatar{border-radius:1.5em;display:block;float:left;height:2.5em;margin-right:.75em;width:2.5em}.wp-block-latest-comments[class*=-font-size] a,.wp-block-latest-comments[style*=font-size] a{font-size:inherit}.wp-block-latest-posts{box-sizing:border-box}.wp-block-latest-posts.alignleft{margin-right:2em}.wp-block-latest-posts.alignright{margin-left:2em}.wp-block-latest-posts.wp-block-latest-posts__list{list-style:none;padding-left:0}.wp-block-latest-posts.wp-block-latest-posts__list li{clear:both}.wp-block-latest-posts.is-grid{display:flex;flex-wrap:wrap;padding:0}.wp-block-latest-posts.is-grid li{margin:0 1.25em 1.25em 0;width:100%}@media (min-width:600px){.wp-block-latest-posts.columns-2 li{width:calc(50% - .625em)}.wp-block-latest-posts.columns-2 li:nth-child(2n){margin-right:0}.wp-block-latest-posts.columns-3 li{width:calc(33.33333% - .83333em)}.wp-block-latest-posts.columns-3 li:nth-child(3n){margin-right:0}.wp-block-latest-posts.columns-4 li{width:calc(25% - .9375em)}.wp-block-latest-posts.columns-4 li:nth-child(4n){margin-right:0}.wp-block-latest-posts.columns-5 li{width:calc(20% - 1em)}.wp-block-latest-posts.columns-5 li:nth-child(5n){margin-right:0}.wp-block-latest-posts.columns-6 li{width:calc(16.66667% - 1.04167em)}.wp-block-latest-posts.columns-6 li:nth-child(6n){margin-right:0}}.wp-block-latest-posts__post-author,.wp-block-latest-posts__post-date{display:block;font-size:.8125em}.wp-block-latest-posts__post-excerpt{margin-bottom:1em;margin-top:.5em}.wp-block-latest-posts__featured-image a{display:inline-block}.wp-block-latest-posts__featured-image img{height:auto;max-width:100%;width:auto}.wp-block-latest-posts__featured-image.alignleft{float:left;margin-right:1em}.wp-block-latest-posts__featured-image.alignright{float:right;margin-left:1em}.wp-block-latest-posts__featured-image.aligncenter{margin-bottom:1em;text-align:center}ol,ul{box-sizing:border-box}ol.has-background,ul.has-background{padding:1.25em 2.375em}.wp-block-media-text{box-sizing:border-box; /*!rtl:begin:ignore*/ direction:ltr; /*!rtl:end:ignore*/ display:grid;grid-template-columns:50% 1fr;grid-template-rows:auto}.wp-block-media-text.has-media-on-the-right{grid-template-columns:1fr 50%}.wp-block-media-text.is-vertically-aligned-top .wp-block-media-text__content,.wp-block-media-text.is-vertically-aligned-top .wp-block-media-text__media{align-self:start}.wp-block-media-text .wp-block-media-text__content,.wp-block-media-text .wp-block-media-text__media,.wp-block-media-text.is-vertically-aligned-center .wp-block-media-text__content,.wp-block-media-text.is-vertically-aligned-center .wp-block-media-text__media{align-self:center}.wp-block-media-text.is-vertically-aligned-bottom .wp-block-media-text__content,.wp-block-media-text.is-vertically-aligned-bottom .wp-block-media-text__media{align-self:end}.wp-block-media-text .wp-block-media-text__media{ /*!rtl:begin:ignore*/ grid-column:1;grid-row:1; /*!rtl:end:ignore*/ margin:0}.wp-block-media-text .wp-block-media-text__content{direction:ltr; /*!rtl:begin:ignore*/ grid-column:2;grid-row:1; /*!rtl:end:ignore*/ padding:0 8%;word-break:break-word}.wp-block-media-text.has-media-on-the-right .wp-block-media-text__media{ /*!rtl:begin:ignore*/ grid-column:2;grid-row:1 /*!rtl:end:ignore*/ }.wp-block-media-text.has-media-on-the-right .wp-block-media-text__content{ /*!rtl:begin:ignore*/ grid-column:1;grid-row:1 /*!rtl:end:ignore*/ }.wp-block-media-text__media img,.wp-block-media-text__media video{height:auto;max-width:unset;vertical-align:middle;width:100%}.wp-block-media-text.is-image-fill .wp-block-media-text__media{background-size:cover;height:100%;min-height:250px}.wp-block-media-text.is-image-fill .wp-block-media-text__media>a{display:block;height:100%}.wp-block-media-text.is-image-fill .wp-block-media-text__media img{clip:rect(0,0,0,0);border:0;height:1px;margin:-1px;overflow:hidden;padding:0;position:absolute;width:1px}@media (max-width:600px){.wp-block-media-text.is-stacked-on-mobile{grid-template-columns:100%!important}.wp-block-media-text.is-stacked-on-mobile .wp-block-media-text__media{grid-column:1;grid-row:1}.wp-block-media-text.is-stacked-on-mobile .wp-block-media-text__content{grid-column:1;grid-row:2}}.wp-block-navigation{--navigation-layout-justification-setting:flex-start;--navigation-layout-direction:row;--navigation-layout-wrap:wrap;--navigation-layout-justify:flex-start;--navigation-layout-align:center;position:relative}.wp-block-navigation ul{margin-bottom:0;margin-left:0;margin-top:0;padding-left:0}.wp-block-navigation ul,.wp-block-navigation ul li{list-style:none;padding:0}.wp-block-navigation .wp-block-navigation-item{align-items:center;display:flex;position:relative}.wp-block-navigation .wp-block-navigation-item .wp-block-navigation__submenu-container:empty{display:none}.wp-block-navigation .wp-block-navigation-item__content{display:block}.wp-block-navigation .wp-block-navigation-item__content.wp-block-navigation-item__content{color:inherit}.wp-block-navigation.has-text-decoration-underline .wp-block-navigation-item__content,.wp-block-navigation.has-text-decoration-underline .wp-block-navigation-item__content:active,.wp-block-navigation.has-text-decoration-underline .wp-block-navigation-item__content:focus{text-decoration:underline}.wp-block-navigation.has-text-decoration-line-through .wp-block-navigation-item__content,.wp-block-navigation.has-text-decoration-line-through .wp-block-navigation-item__content:active,.wp-block-navigation.has-text-decoration-line-through .wp-block-navigation-item__content:focus{text-decoration:line-through}.wp-block-navigation:where(:not([class*=has-text-decoration])) a{text-decoration:none}.wp-block-navigation:where(:not([class*=has-text-decoration])) a:active,.wp-block-navigation:where(:not([class*=has-text-decoration])) a:focus{text-decoration:none}.wp-block-navigation .wp-block-navigation__submenu-icon{align-self:center;background-color:inherit;border:none;color:currentColor;display:inline-block;font-size:inherit;height:.6em;line-height:0;margin-left:.25em;padding:0;width:.6em}.wp-block-navigation .wp-block-navigation__submenu-icon svg{stroke:currentColor;display:inline-block;height:inherit;margin-top:.075em;width:inherit}.wp-block-navigation.is-vertical{--navigation-layout-direction:column;--navigation-layout-justify:initial;--navigation-layout-align:flex-start}.wp-block-navigation.no-wrap{--navigation-layout-wrap:nowrap}.wp-block-navigation.items-justified-center{--navigation-layout-justification-setting:center;--navigation-layout-justify:center}.wp-block-navigation.items-justified-center.is-vertical{--navigation-layout-align:center}.wp-block-navigation.items-justified-right{--navigation-layout-justification-setting:flex-end;--navigation-layout-justify:flex-end}.wp-block-navigation.items-justified-right.is-vertical{--navigation-layout-align:flex-end}.wp-block-navigation.items-justified-space-between{--navigation-layout-justification-setting:space-between;--navigation-layout-justify:space-between}.wp-block-navigation .has-child .wp-block-navigation__submenu-container{align-items:normal;background-color:inherit;color:inherit;display:flex;flex-direction:column;height:0;left:-1px;opacity:0;overflow:hidden;position:absolute;top:100%;transition:opacity .1s linear;visibility:hidden;width:0;z-index:2}.wp-block-navigation .has-child .wp-block-navigation__submenu-container>.wp-block-navigation-item>.wp-block-navigation-item__content{display:flex;flex-grow:1}.wp-block-navigation .has-child .wp-block-navigation__submenu-container>.wp-block-navigation-item>.wp-block-navigation-item__content .wp-block-navigation__submenu-icon{margin-left:auto;margin-right:0}.wp-block-navigation .has-child .wp-block-navigation__submenu-container .wp-block-navigation-item__content{margin:0}@media (min-width:782px){.wp-block-navigation .has-child .wp-block-navigation__submenu-container .wp-block-navigation__submenu-container{left:100%;top:-1px}.wp-block-navigation .has-child .wp-block-navigation__submenu-container .wp-block-navigation__submenu-container:before{background:transparent;content:"";display:block;height:100%;position:absolute;right:100%;width:.5em}.wp-block-navigation .has-child .wp-block-navigation__submenu-container .wp-block-navigation__submenu-icon{margin-right:.25em}.wp-block-navigation .has-child .wp-block-navigation__submenu-container .wp-block-navigation__submenu-icon svg{transform:rotate(-90deg)}}.wp-block-navigation .has-child:not(.open-on-click):hover>.wp-block-navigation__submenu-container{height:auto;min-width:200px;opacity:1;overflow:visible;visibility:visible;width:auto}.wp-block-navigation .has-child:not(.open-on-click):not(.open-on-hover-click):focus-within>.wp-block-navigation__submenu-container{height:auto;min-width:200px;opacity:1;overflow:visible;visibility:visible;width:auto}.wp-block-navigation .has-child .wp-block-navigation-submenu__toggle[aria-expanded=true]~.wp-block-navigation__submenu-container{height:auto;min-width:200px;opacity:1;overflow:visible;visibility:visible;width:auto}.wp-block-navigation.has-background .has-child .wp-block-navigation__submenu-container{left:0;top:100%}@media (min-width:782px){.wp-block-navigation.has-background .has-child .wp-block-navigation__submenu-container .wp-block-navigation__submenu-container{left:100%;top:0}}.wp-block-navigation-submenu{display:flex;position:relative}.wp-block-navigation-submenu .wp-block-navigation__submenu-icon svg{stroke:currentColor}button.wp-block-navigation-item__content{background-color:transparent;border:none;color:currentColor;font-family:inherit;font-size:inherit;font-style:inherit;font-weight:inherit;line-height:inherit;text-align:left;text-transform:inherit}.wp-block-navigation-submenu__toggle{cursor:pointer}.wp-block-navigation-item.open-on-click .wp-block-navigation-submenu__toggle{padding-right:.85em}.wp-block-navigation-item.open-on-click .wp-block-navigation-submenu__toggle+.wp-block-navigation__submenu-icon{margin-left:-.6em;pointer-events:none}.wp-block-navigation .wp-block-page-list,.wp-block-navigation__container,.wp-block-navigation__responsive-close,.wp-block-navigation__responsive-container,.wp-block-navigation__responsive-container-content,.wp-block-navigation__responsive-dialog{gap:inherit}:where(.wp-block-navigation.has-background .wp-block-navigation-item a:not(.wp-element-button)),:where(.wp-block-navigation.has-background .wp-block-navigation-submenu a:not(.wp-element-button)){padding:.5em 1em}:where(.wp-block-navigation .wp-block-navigation__submenu-container .wp-block-navigation-item a:not(.wp-element-button)),:where(.wp-block-navigation .wp-block-navigation__submenu-container .wp-block-navigation-submenu a:not(.wp-element-button)),:where(.wp-block-navigation .wp-block-navigation__submenu-container .wp-block-navigation-submenu button.wp-block-navigation-item__content),:where(.wp-block-navigation .wp-block-navigation__submenu-container .wp-block-pages-list__item button.wp-block-navigation-item__content){padding:.5em 1em}.wp-block-navigation.items-justified-right .wp-block-navigation__container .has-child .wp-block-navigation__submenu-container,.wp-block-navigation.items-justified-right .wp-block-page-list>.has-child .wp-block-navigation__submenu-container,.wp-block-navigation.items-justified-space-between .wp-block-page-list>.has-child:last-child .wp-block-navigation__submenu-container,.wp-block-navigation.items-justified-space-between>.wp-block-navigation__container>.has-child:last-child .wp-block-navigation__submenu-container{left:auto;right:0}.wp-block-navigation.items-justified-right .wp-block-navigation__container .has-child .wp-block-navigation__submenu-container .wp-block-navigation__submenu-container,.wp-block-navigation.items-justified-right .wp-block-page-list>.has-child .wp-block-navigation__submenu-container .wp-block-navigation__submenu-container,.wp-block-navigation.items-justified-space-between .wp-block-page-list>.has-child:last-child .wp-block-navigation__submenu-container .wp-block-navigation__submenu-container,.wp-block-navigation.items-justified-space-between>.wp-block-navigation__container>.has-child:last-child .wp-block-navigation__submenu-container .wp-block-navigation__submenu-container{left:-1px;right:-1px}@media (min-width:782px){.wp-block-navigation.items-justified-right .wp-block-navigation__container .has-child .wp-block-navigation__submenu-container .wp-block-navigation__submenu-container,.wp-block-navigation.items-justified-right .wp-block-page-list>.has-child .wp-block-navigation__submenu-container .wp-block-navigation__submenu-container,.wp-block-navigation.items-justified-space-between .wp-block-page-list>.has-child:last-child .wp-block-navigation__submenu-container .wp-block-navigation__submenu-container,.wp-block-navigation.items-justified-space-between>.wp-block-navigation__container>.has-child:last-child .wp-block-navigation__submenu-container .wp-block-navigation__submenu-container{left:auto;right:100%}}.wp-block-navigation:not(.has-background) .wp-block-navigation__submenu-container{background-color:#fff;border:1px solid rgba(0,0,0,.15);color:#000}.wp-block-navigation__container{align-items:var(--navigation-layout-align,initial);display:flex;flex-direction:var(--navigation-layout-direction,initial);flex-wrap:var(--navigation-layout-wrap,wrap);justify-content:var(--navigation-layout-justify,initial);list-style:none;margin:0;padding-left:0}.wp-block-navigation__container .is-responsive{display:none}.wp-block-navigation__container:only-child,.wp-block-page-list:only-child{flex-grow:1}@keyframes overlay-menu__fade-in-animation{0%{opacity:0;transform:translateY(.5em)}to{opacity:1;transform:translateY(0)}}.wp-block-navigation__responsive-container{bottom:0;display:none;left:0;position:fixed;right:0;top:0}.wp-block-navigation__responsive-container .wp-block-navigation-link a{color:inherit}.wp-block-navigation__responsive-container .wp-block-navigation__responsive-container-content{align-items:var(--navigation-layout-align,initial);display:flex;flex-direction:var(--navigation-layout-direction,initial);flex-wrap:var(--navigation-layout-wrap,wrap);justify-content:var(--navigation-layout-justify,initial)}.wp-block-navigation__responsive-container:not(.is-menu-open.is-menu-open){background-color:inherit!important;color:inherit!important}.wp-block-navigation__responsive-container.is-menu-open{animation:overlay-menu__fade-in-animation .1s ease-out;animation-fill-mode:forwards;background-color:inherit;display:flex;flex-direction:column;overflow:auto;padding:var(--wp--style--root--padding-top,2rem) var(--wp--style--root--padding-right,2rem) var(--wp--style--root--padding-bottom,2rem) var(--wp--style--root--padding-left,2rem);z-index:100000}@media (prefers-reduced-motion:reduce){.wp-block-navigation__responsive-container.is-menu-open{animation-delay:0s;animation-duration:1ms}}.wp-block-navigation__responsive-container.is-menu-open .wp-block-navigation__responsive-container-content{align-items:var(--navigation-layout-justification-setting,inherit);display:flex;flex-direction:column;flex-wrap:nowrap;overflow:visible;padding-top:calc(2rem + 24px)}.wp-block-navigation__responsive-container.is-menu-open .wp-block-navigation__responsive-container-content,.wp-block-navigation__responsive-container.is-menu-open .wp-block-navigation__responsive-container-content .wp-block-navigation__container,.wp-block-navigation__responsive-container.is-menu-open .wp-block-navigation__responsive-container-content .wp-block-page-list{justify-content:flex-start}.wp-block-navigation__responsive-container.is-menu-open .wp-block-navigation__responsive-container-content .wp-block-navigation__submenu-icon{display:none}.wp-block-navigation__responsive-container.is-menu-open .wp-block-navigation__responsive-container-content .has-child .wp-block-navigation__submenu-container{border:none;height:auto;min-width:200px;opacity:1;overflow:initial;padding-left:2rem;padding-right:2rem;position:static;visibility:visible;width:auto}.wp-block-navigation__responsive-container.is-menu-open .wp-block-navigation__responsive-container-content .wp-block-navigation__container,.wp-block-navigation__responsive-container.is-menu-open .wp-block-navigation__responsive-container-content .wp-block-navigation__submenu-container{gap:inherit}.wp-block-navigation__responsive-container.is-menu-open .wp-block-navigation__responsive-container-content .wp-block-navigation__submenu-container{padding-top:var(--wp--style--block-gap,2em)}.wp-block-navigation__responsive-container.is-menu-open .wp-block-navigation__responsive-container-content .wp-block-navigation-item__content{padding:0}.wp-block-navigation__responsive-container.is-menu-open .wp-block-navigation__responsive-container-content .wp-block-navigation-item,.wp-block-navigation__responsive-container.is-menu-open .wp-block-navigation__responsive-container-content .wp-block-navigation__container,.wp-block-navigation__responsive-container.is-menu-open .wp-block-navigation__responsive-container-content .wp-block-page-list{align-items:var(--navigation-layout-justification-setting,initial);display:flex;flex-direction:column}.wp-block-navigation__responsive-container.is-menu-open .wp-block-navigation-item,.wp-block-navigation__responsive-container.is-menu-open .wp-block-navigation-item .wp-block-navigation__submenu-container,.wp-block-navigation__responsive-container.is-menu-open .wp-block-page-list{background:transparent!important;color:inherit!important}.wp-block-navigation__responsive-container.is-menu-open .wp-block-navigation__submenu-container.wp-block-navigation__submenu-container.wp-block-navigation__submenu-container.wp-block-navigation__submenu-container{left:auto;right:auto}@media (min-width:600px){.wp-block-navigation__responsive-container:not(.hidden-by-default):not(.is-menu-open){background-color:inherit;display:block;position:relative;width:100%;z-index:auto}.wp-block-navigation__responsive-container:not(.hidden-by-default):not(.is-menu-open) .wp-block-navigation__responsive-container-close{display:none}.wp-block-navigation__responsive-container.is-menu-open .wp-block-navigation__submenu-container.wp-block-navigation__submenu-container.wp-block-navigation__submenu-container.wp-block-navigation__submenu-container{left:0}}.wp-block-navigation:not(.has-background) .wp-block-navigation__responsive-container.is-menu-open{background-color:#fff;color:#000}.wp-block-navigation__toggle_button_label{font-size:1rem;font-weight:700}.wp-block-navigation__responsive-container-close,.wp-block-navigation__responsive-container-open{background:transparent;border:none;color:currentColor;cursor:pointer;margin:0;padding:0;text-transform:inherit;vertical-align:middle}.wp-block-navigation__responsive-container-close svg,.wp-block-navigation__responsive-container-open svg{fill:currentColor;display:block;height:24px;pointer-events:none;width:24px}.wp-block-navigation__responsive-container-open{display:flex}.wp-block-navigation__responsive-container-open.wp-block-navigation__responsive-container-open.wp-block-navigation__responsive-container-open{font-family:inherit;font-size:inherit;font-weight:inherit}@media (min-width:600px){.wp-block-navigation__responsive-container-open:not(.always-shown){display:none}}.wp-block-navigation__responsive-container-close{position:absolute;right:0;top:0;z-index:2}.wp-block-navigation__responsive-container-close.wp-block-navigation__responsive-container-close.wp-block-navigation__responsive-container-close{font-family:inherit;font-size:inherit;font-weight:inherit}.wp-block-navigation__responsive-close{width:100%}.has-modal-open .wp-block-navigation__responsive-close{margin-left:auto;margin-right:auto;max-width:var(--wp--style--global--wide-size,100%)}.wp-block-navigation__responsive-close:focus{outline:none}.is-menu-open .wp-block-navigation__responsive-close,.is-menu-open .wp-block-navigation__responsive-container-content,.is-menu-open .wp-block-navigation__responsive-dialog{box-sizing:border-box}.wp-block-navigation__responsive-dialog{position:relative}.has-modal-open .admin-bar .is-menu-open .wp-block-navigation__responsive-dialog{margin-top:46px}@media (min-width:782px){.has-modal-open .admin-bar .is-menu-open .wp-block-navigation__responsive-dialog{margin-top:32px}}html.has-modal-open{overflow:hidden}.wp-block-navigation .wp-block-navigation-item__label{overflow-wrap:break-word;word-break:normal}.wp-block-navigation .wp-block-navigation-item__description{display:none}.wp-block-navigation .wp-block-page-list{align-items:var(--navigation-layout-align,initial);background-color:inherit;display:flex;flex-direction:var(--navigation-layout-direction,initial);flex-wrap:var(--navigation-layout-wrap,wrap);justify-content:var(--navigation-layout-justify,initial)}.wp-block-navigation .wp-block-navigation-item{background-color:inherit}.is-small-text{font-size:.875em}.is-regular-text{font-size:1em}.is-large-text{font-size:2.25em}.is-larger-text{font-size:3em}.has-drop-cap:not(:focus):first-letter {float:left;font-size:8.4em;font-style:normal;font-weight:100;line-height:.68;margin:.05em .1em 0 0;text-transform:uppercase}body.rtl .has-drop-cap:not(:focus):first-letter {float:none;margin-left:.1em}p.has-drop-cap.has-background{overflow:hidden}p.has-background{padding:1.25em 2.375em}:where(p.has-text-color:not(.has-link-color)) a{color:inherit}.wp-block-post-author{display:flex;flex-wrap:wrap}.wp-block-post-author__byline{font-size:.5em;margin-bottom:0;margin-top:0;width:100%}.wp-block-post-author__avatar{margin-right:1em}.wp-block-post-author__bio{font-size:.7em;margin-bottom:.7em}.wp-block-post-author__content{flex-basis:0;flex-grow:1}.wp-block-post-author__name{margin:0}.wp-block-post-comments-form{box-sizing:border-box}.wp-block-post-comments-form[style*=font-weight] :where(.comment-reply-title){font-weight:inherit}.wp-block-post-comments-form[style*=font-family] :where(.comment-reply-title){font-family:inherit}.wp-block-post-comments-form[class*=-font-size] :where(.comment-reply-title),.wp-block-post-comments-form[style*=font-size] :where(.comment-reply-title){font-size:inherit}.wp-block-post-comments-form[style*=line-height] :where(.comment-reply-title){line-height:inherit}.wp-block-post-comments-form[style*=font-style] :where(.comment-reply-title){font-style:inherit}.wp-block-post-comments-form[style*=letter-spacing] :where(.comment-reply-title){letter-spacing:inherit}.wp-block-post-comments-form input[type=submit]{box-shadow:none;cursor:pointer;display:inline-block;overflow-wrap:break-word;text-align:center}.wp-block-post-comments-form input:not([type=submit]),.wp-block-post-comments-form textarea{border:1px solid #949494;font-family:inherit;font-size:1em}.wp-block-post-comments-form input:not([type=submit]):not([type=checkbox]),.wp-block-post-comments-form textarea{padding:calc(.667em + 2px)}.wp-block-post-comments-form .comment-form input:not([type=submit]):not([type=checkbox]):not([type=hidden]),.wp-block-post-comments-form .comment-form textarea{box-sizing:border-box;display:block;width:100%}.wp-block-post-comments-form .comment-form-author label,.wp-block-post-comments-form .comment-form-email label,.wp-block-post-comments-form .comment-form-url label{display:block;margin-bottom:.25em}.wp-block-post-comments-form .comment-form-cookies-consent{display:flex;gap:.25em}.wp-block-post-comments-form .comment-form-cookies-consent #wp-comment-cookies-consent{margin-top:.35em}.wp-block-post-comments-form .comment-reply-title{margin-bottom:0}.wp-block-post-comments-form .comment-reply-title :where(small){font-size:var(--wp--preset--font-size--medium,smaller);margin-left:.5em}.wp-block-post-date{box-sizing:border-box}:where(.wp-block-post-excerpt){margin-bottom:var(--wp--style--block-gap);margin-top:var(--wp--style--block-gap)}.wp-block-post-excerpt__excerpt{margin-bottom:0;margin-top:0}.wp-block-post-excerpt__more-text{margin-bottom:0;margin-top:var(--wp--style--block-gap)}.wp-block-post-excerpt__more-link{display:inline-block}.wp-block-post-featured-image{margin-left:0;margin-right:0}.wp-block-post-featured-image a{display:block;height:100%}.wp-block-post-featured-image img{box-sizing:border-box;height:auto;max-width:100%;vertical-align:bottom;width:100%}.wp-block-post-featured-image.alignfull img,.wp-block-post-featured-image.alignwide img{width:100%}.wp-block-post-featured-image .wp-block-post-featured-image__overlay.has-background-dim{background-color:#000;inset:0;position:absolute}.wp-block-post-featured-image{position:relative}.wp-block-post-featured-image .wp-block-post-featured-image__overlay.has-background-gradient{background-color:transparent}.wp-block-post-featured-image .wp-block-post-featured-image__overlay.has-background-dim-0{opacity:0}.wp-block-post-featured-image .wp-block-post-featured-image__overlay.has-background-dim-10{opacity:.1}.wp-block-post-featured-image .wp-block-post-featured-image__overlay.has-background-dim-20{opacity:.2}.wp-block-post-featured-image .wp-block-post-featured-image__overlay.has-background-dim-30{opacity:.3}.wp-block-post-featured-image .wp-block-post-featured-image__overlay.has-background-dim-40{opacity:.4}.wp-block-post-featured-image .wp-block-post-featured-image__overlay.has-background-dim-50{opacity:.5}.wp-block-post-featured-image .wp-block-post-featured-image__overlay.has-background-dim-60{opacity:.6}.wp-block-post-featured-image .wp-block-post-featured-image__overlay.has-background-dim-70{opacity:.7}.wp-block-post-featured-image .wp-block-post-featured-image__overlay.has-background-dim-80{opacity:.8}.wp-block-post-featured-image .wp-block-post-featured-image__overlay.has-background-dim-90{opacity:.9}.wp-block-post-featured-image .wp-block-post-featured-image__overlay.has-background-dim-100{opacity:1}.wp-block-post-navigation-link .wp-block-post-navigation-link__arrow-previous{display:inline-block;margin-right:1ch}.wp-block-post-navigation-link .wp-block-post-navigation-link__arrow-previous:not(.is-arrow-chevron){transform:scaleX(1)}.wp-block-post-navigation-link .wp-block-post-navigation-link__arrow-next{display:inline-block;margin-left:1ch}.wp-block-post-navigation-link .wp-block-post-navigation-link__arrow-next:not(.is-arrow-chevron){transform:scaleX(1)}.wp-block-post-terms{box-sizing:border-box}.wp-block-post-terms .wp-block-post-terms__separator{white-space:pre-wrap}.wp-block-post-time-to-read,.wp-block-post-title{box-sizing:border-box}.wp-block-post-title{word-break:break-word}.wp-block-post-title a{display:inline-block}.wp-block-preformatted{white-space:pre-wrap}.wp-block-preformatted.has-background{padding:1.25em 2.375em}.wp-block-pullquote{box-sizing:border-box;overflow-wrap:break-word;padding:3em 0;text-align:center}.wp-block-pullquote blockquote,.wp-block-pullquote cite,.wp-block-pullquote p{color:inherit}.wp-block-pullquote.alignleft,.wp-block-pullquote.alignright{max-width:420px}.wp-block-pullquote cite,.wp-block-pullquote footer{position:relative}.wp-block-pullquote .has-text-color a{color:inherit}:where(.wp-block-pullquote){margin:0 0 1em}.wp-block-pullquote.has-text-align-left blockquote{text-align:left}.wp-block-pullquote.has-text-align-right blockquote{text-align:right}.wp-block-pullquote.is-style-solid-color{border:none}.wp-block-pullquote.is-style-solid-color blockquote{margin-left:auto;margin-right:auto;max-width:60%}.wp-block-pullquote.is-style-solid-color blockquote p{font-size:2em;margin-bottom:0;margin-top:0}.wp-block-pullquote.is-style-solid-color blockquote cite{font-style:normal;text-transform:none}.wp-block-pullquote cite{color:inherit}.wp-block-post-template{list-style:none;margin-bottom:0;margin-top:0;max-width:100%;padding:0}.wp-block-post-template.wp-block-post-template{background:none}.wp-block-post-template.is-flex-container{display:flex;flex-direction:row;flex-wrap:wrap;gap:1.25em}.wp-block-post-template.is-flex-container>li{margin:0;width:100%}@media (min-width:600px){.wp-block-post-template.is-flex-container.is-flex-container.columns-2>li{width:calc(50% - .625em)}.wp-block-post-template.is-flex-container.is-flex-container.columns-3>li{width:calc(33.33333% - .83333em)}.wp-block-post-template.is-flex-container.is-flex-container.columns-4>li{width:calc(25% - .9375em)}.wp-block-post-template.is-flex-container.is-flex-container.columns-5>li{width:calc(20% - 1em)}.wp-block-post-template.is-flex-container.is-flex-container.columns-6>li{width:calc(16.66667% - 1.04167em)}}@media (max-width:600px){.wp-block-post-template-is-layout-grid.wp-block-post-template-is-layout-grid.wp-block-post-template-is-layout-grid.wp-block-post-template-is-layout-grid{grid-template-columns:1fr}}.wp-block-query-pagination>.wp-block-query-pagination-next,.wp-block-query-pagination>.wp-block-query-pagination-numbers,.wp-block-query-pagination>.wp-block-query-pagination-previous{margin-bottom:.5em;margin-right:.5em}.wp-block-query-pagination>.wp-block-query-pagination-next:last-child,.wp-block-query-pagination>.wp-block-query-pagination-numbers:last-child,.wp-block-query-pagination>.wp-block-query-pagination-previous:last-child{margin-right:0}.wp-block-query-pagination.is-content-justification-space-between>.wp-block-query-pagination-next:last-of-type{margin-inline-start:auto}.wp-block-query-pagination.is-content-justification-space-between>.wp-block-query-pagination-previous:first-child{margin-inline-end:auto}.wp-block-query-pagination .wp-block-query-pagination-previous-arrow{display:inline-block;margin-right:1ch}.wp-block-query-pagination .wp-block-query-pagination-previous-arrow:not(.is-arrow-chevron){transform:scaleX(1)}.wp-block-query-pagination .wp-block-query-pagination-next-arrow{display:inline-block;margin-left:1ch}.wp-block-query-pagination .wp-block-query-pagination-next-arrow:not(.is-arrow-chevron){transform:scaleX(1)}.wp-block-query-pagination.aligncenter{justify-content:center}.wp-block-query-title,.wp-block-quote{box-sizing:border-box}.wp-block-quote{overflow-wrap:break-word}.wp-block-quote.is-large:where(:not(.is-style-plain)),.wp-block-quote.is-style-large:where(:not(.is-style-plain)){margin-bottom:1em;padding:0 1em}.wp-block-quote.is-large:where(:not(.is-style-plain)) p,.wp-block-quote.is-style-large:where(:not(.is-style-plain)) p{font-size:1.5em;font-style:italic;line-height:1.6}.wp-block-quote.is-large:where(:not(.is-style-plain)) cite,.wp-block-quote.is-large:where(:not(.is-style-plain)) footer,.wp-block-quote.is-style-large:where(:not(.is-style-plain)) cite,.wp-block-quote.is-style-large:where(:not(.is-style-plain)) footer{font-size:1.125em;text-align:right}.wp-block-read-more{display:block;width:-moz-fit-content;width:fit-content}.wp-block-read-more:not([style*=text-decoration]),.wp-block-read-more:not([style*=text-decoration]):active,.wp-block-read-more:not([style*=text-decoration]):focus{text-decoration:none}ul.wp-block-rss{list-style:none;padding:0}ul.wp-block-rss.wp-block-rss{box-sizing:border-box}ul.wp-block-rss.alignleft{margin-right:2em}ul.wp-block-rss.alignright{margin-left:2em}ul.wp-block-rss.is-grid{display:flex;flex-wrap:wrap;list-style:none;padding:0}ul.wp-block-rss.is-grid li{margin:0 1em 1em 0;width:100%}@media (min-width:600px){ul.wp-block-rss.columns-2 li{width:calc(50% - 1em)}ul.wp-block-rss.columns-3 li{width:calc(33.33333% - 1em)}ul.wp-block-rss.columns-4 li{width:calc(25% - 1em)}ul.wp-block-rss.columns-5 li{width:calc(20% - 1em)}ul.wp-block-rss.columns-6 li{width:calc(16.66667% - 1em)}}.wp-block-rss__item-author,.wp-block-rss__item-publish-date{display:block;font-size:.8125em}.wp-block-search__button{margin-left:10px;word-break:normal}.wp-block-search__button.has-icon{line-height:0}.wp-block-search__button svg{fill:currentColor;min-height:24px;min-width:24px;vertical-align:text-bottom}:where(.wp-block-search__button){border:1px solid #ccc;padding:6px 10px}.wp-block-search__inside-wrapper{display:flex;flex:auto;flex-wrap:nowrap;max-width:100%}.wp-block-search__label{width:100%}.wp-block-search__input{-webkit-appearance:initial;appearance:none;border:1px solid #949494;flex-grow:1;margin-left:0;margin-right:0;min-width:3rem;padding:8px;text-decoration:unset!important}.wp-block-search.wp-block-search__button-only .wp-block-search__button{margin-left:0}:where(.wp-block-search__button-inside .wp-block-search__inside-wrapper){border:1px solid #949494;box-sizing:border-box;padding:4px}:where(.wp-block-search__button-inside .wp-block-search__inside-wrapper) .wp-block-search__input{border:none;border-radius:0;padding:0 4px}:where(.wp-block-search__button-inside .wp-block-search__inside-wrapper) .wp-block-search__input:focus{outline:none}:where(.wp-block-search__button-inside .wp-block-search__inside-wrapper) :where(.wp-block-search__button){padding:4px 8px}.wp-block-search.aligncenter .wp-block-search__inside-wrapper{margin:auto}.wp-block-search__button-behavior-expand .wp-block-search__inside-wrapper{min-width:0!important;transition-property:width}.wp-block-search__button-behavior-expand .wp-block-search__input{flex-basis:100%;transition-duration:.3s}.wp-block-search__button-behavior-expand.wp-block-search__searchfield-hidden,.wp-block-search__button-behavior-expand.wp-block-search__searchfield-hidden .wp-block-search__inside-wrapper{overflow:hidden}.wp-block-search__button-behavior-expand.wp-block-search__searchfield-hidden .wp-block-search__input{border-left-width:0!important;border-right-width:0!important;flex-basis:0;flex-grow:0;margin:0;min-width:0!important;padding-left:0!important;padding-right:0!important;width:0!important}.wp-block[data-align=right] .wp-block-search__button-behavior-expand .wp-block-search__inside-wrapper{float:right}.wp-block-separator{border:1px solid;border-left:none;border-right:none}.wp-block-separator.is-style-dots{background:none!important;border:none;height:auto;line-height:1;text-align:center}.wp-block-separator.is-style-dots:before{color:currentColor;content:"···";font-family:serif;font-size:1.5em;letter-spacing:2em;padding-left:2em}.wp-block-site-logo{box-sizing:border-box;line-height:0}.wp-block-site-logo a{display:inline-block}.wp-block-site-logo.is-default-size img{height:auto;width:120px}.wp-block-site-logo img{height:auto;max-width:100%}.wp-block-site-logo a,.wp-block-site-logo img{border-radius:inherit}.wp-block-site-logo.aligncenter{margin-left:auto;margin-right:auto;text-align:center}.wp-block-site-logo.is-style-rounded{border-radius:9999px}.wp-block-site-title a{color:inherit}.wp-block-social-links{background:none;box-sizing:border-box;margin-left:0;padding-left:0;padding-right:0;text-indent:0}.wp-block-social-links .wp-social-link a,.wp-block-social-links .wp-social-link a:hover{border-bottom:0;box-shadow:none;text-decoration:none}.wp-block-social-links .wp-social-link a{padding:.25em}.wp-block-social-links .wp-social-link svg{height:1em;width:1em}.wp-block-social-links .wp-social-link span:not(.screen-reader-text){font-size:.65em;margin-left:.5em;margin-right:.5em}.wp-block-social-links.has-small-icon-size{font-size:16px}.wp-block-social-links,.wp-block-social-links.has-normal-icon-size{font-size:24px}.wp-block-social-links.has-large-icon-size{font-size:36px}.wp-block-social-links.has-huge-icon-size{font-size:48px}.wp-block-social-links.aligncenter{display:flex;justify-content:center}.wp-block-social-links.alignright{justify-content:flex-end}.wp-block-social-link{border-radius:9999px;display:block;height:auto;transition:transform .1s ease}@media (prefers-reduced-motion:reduce){.wp-block-social-link{transition-delay:0s;transition-duration:0s}}.wp-block-social-link a{align-items:center;display:flex;line-height:0;transition:transform .1s ease}.wp-block-social-link:hover{transform:scale(1.1)}.wp-block-social-links .wp-block-social-link .wp-block-social-link-anchor,.wp-block-social-links .wp-block-social-link .wp-block-social-link-anchor svg,.wp-block-social-links .wp-block-social-link .wp-block-social-link-anchor:active,.wp-block-social-links .wp-block-social-link .wp-block-social-link-anchor:hover,.wp-block-social-links .wp-block-social-link .wp-block-social-link-anchor:visited{fill:currentColor;color:currentColor}.wp-block-social-links:not(.is-style-logos-only) .wp-social-link{background-color:#f0f0f0;color:#444}.wp-block-social-links:not(.is-style-logos-only) .wp-social-link-amazon{background-color:#f90;color:#fff}.wp-block-social-links:not(.is-style-logos-only) .wp-social-link-bandcamp{background-color:#1ea0c3;color:#fff}.wp-block-social-links:not(.is-style-logos-only) .wp-social-link-behance{background-color:#0757fe;color:#fff}.wp-block-social-links:not(.is-style-logos-only) .wp-social-link-codepen{background-color:#1e1f26;color:#fff}.wp-block-social-links:not(.is-style-logos-only) .wp-social-link-deviantart{background-color:#02e49b;color:#fff}.wp-block-social-links:not(.is-style-logos-only) .wp-social-link-dribbble{background-color:#e94c89;color:#fff}.wp-block-social-links:not(.is-style-logos-only) .wp-social-link-dropbox{background-color:#4280ff;color:#fff}.wp-block-social-links:not(.is-style-logos-only) .wp-social-link-etsy{background-color:#f45800;color:#fff}.wp-block-social-links:not(.is-style-logos-only) .wp-social-link-facebook{background-color:#1778f2;color:#fff}.wp-block-social-links:not(.is-style-logos-only) .wp-social-link-fivehundredpx{background-color:#000;color:#fff}.wp-block-social-links:not(.is-style-logos-only) .wp-social-link-flickr{background-color:#0461dd;color:#fff}.wp-block-social-links:not(.is-style-logos-only) .wp-social-link-foursquare{background-color:#e65678;color:#fff}.wp-block-social-links:not(.is-style-logos-only) .wp-social-link-github{background-color:#24292d;color:#fff}.wp-block-social-links:not(.is-style-logos-only) .wp-social-link-goodreads{background-color:#eceadd;color:#382110}.wp-block-social-links:not(.is-style-logos-only) .wp-social-link-google{background-color:#ea4434;color:#fff}.wp-block-social-links:not(.is-style-logos-only) .wp-social-link-instagram{background-color:#f00075;color:#fff}.wp-block-social-links:not(.is-style-logos-only) .wp-social-link-lastfm{background-color:#e21b24;color:#fff}.wp-block-social-links:not(.is-style-logos-only) .wp-social-link-linkedin{background-color:#0d66c2;color:#fff}.wp-block-social-links:not(.is-style-logos-only) .wp-social-link-mastodon{background-color:#3288d4;color:#fff}.wp-block-social-links:not(.is-style-logos-only) .wp-social-link-medium{background-color:#02ab6c;color:#fff}.wp-block-social-links:not(.is-style-logos-only) .wp-social-link-meetup{background-color:#f6405f;color:#fff}.wp-block-social-links:not(.is-style-logos-only) .wp-social-link-patreon{background-color:#ff424d;color:#fff}.wp-block-social-links:not(.is-style-logos-only) .wp-social-link-pinterest{background-color:#e60122;color:#fff}.wp-block-social-links:not(.is-style-logos-only) .wp-social-link-pocket{background-color:#ef4155;color:#fff}.wp-block-social-links:not(.is-style-logos-only) .wp-social-link-reddit{background-color:#ff4500;color:#fff}.wp-block-social-links:not(.is-style-logos-only) .wp-social-link-skype{background-color:#0478d7;color:#fff}.wp-block-social-links:not(.is-style-logos-only) .wp-social-link-snapchat{stroke:#000;background-color:#fefc00;color:#fff}.wp-block-social-links:not(.is-style-logos-only) .wp-social-link-soundcloud{background-color:#ff5600;color:#fff}.wp-block-social-links:not(.is-style-logos-only) .wp-social-link-spotify{background-color:#1bd760;color:#fff}.wp-block-social-links:not(.is-style-logos-only) .wp-social-link-telegram{background-color:#2aabee;color:#fff}.wp-block-social-links:not(.is-style-logos-only) .wp-social-link-tiktok{background-color:#000;color:#fff}.wp-block-social-links:not(.is-style-logos-only) .wp-social-link-tumblr{background-color:#011835;color:#fff}.wp-block-social-links:not(.is-style-logos-only) .wp-social-link-twitch{background-color:#6440a4;color:#fff}.wp-block-social-links:not(.is-style-logos-only) .wp-social-link-twitter{background-color:#1da1f2;color:#fff}.wp-block-social-links:not(.is-style-logos-only) .wp-social-link-vimeo{background-color:#1eb7ea;color:#fff}.wp-block-social-links:not(.is-style-logos-only) .wp-social-link-vk{background-color:#4680c2;color:#fff}.wp-block-social-links:not(.is-style-logos-only) .wp-social-link-wordpress{background-color:#3499cd;color:#fff}.wp-block-social-links:not(.is-style-logos-only) .wp-social-link-whatsapp{background-color:#25d366;color:#fff}.wp-block-social-links:not(.is-style-logos-only) .wp-social-link-yelp{background-color:#d32422;color:#fff}.wp-block-social-links:not(.is-style-logos-only) .wp-social-link-youtube{background-color:red;color:#fff}.wp-block-social-links.is-style-logos-only .wp-social-link{background:none}.wp-block-social-links.is-style-logos-only .wp-social-link a{padding:0}.wp-block-social-links.is-style-logos-only .wp-social-link svg{height:1.25em;width:1.25em}.wp-block-social-links.is-style-logos-only .wp-social-link-amazon{color:#f90}.wp-block-social-links.is-style-logos-only .wp-social-link-bandcamp{color:#1ea0c3}.wp-block-social-links.is-style-logos-only .wp-social-link-behance{color:#0757fe}.wp-block-social-links.is-style-logos-only .wp-social-link-codepen{color:#1e1f26}.wp-block-social-links.is-style-logos-only .wp-social-link-deviantart{color:#02e49b}.wp-block-social-links.is-style-logos-only .wp-social-link-dribbble{color:#e94c89}.wp-block-social-links.is-style-logos-only .wp-social-link-dropbox{color:#4280ff}.wp-block-social-links.is-style-logos-only .wp-social-link-etsy{color:#f45800}.wp-block-social-links.is-style-logos-only .wp-social-link-facebook{color:#1778f2}.wp-block-social-links.is-style-logos-only .wp-social-link-fivehundredpx{color:#000}.wp-block-social-links.is-style-logos-only .wp-social-link-flickr{color:#0461dd}.wp-block-social-links.is-style-logos-only .wp-social-link-foursquare{color:#e65678}.wp-block-social-links.is-style-logos-only .wp-social-link-github{color:#24292d}.wp-block-social-links.is-style-logos-only .wp-social-link-goodreads{color:#382110}.wp-block-social-links.is-style-logos-only .wp-social-link-google{color:#ea4434}.wp-block-social-links.is-style-logos-only .wp-social-link-instagram{color:#f00075}.wp-block-social-links.is-style-logos-only .wp-social-link-lastfm{color:#e21b24}.wp-block-social-links.is-style-logos-only .wp-social-link-linkedin{color:#0d66c2}.wp-block-social-links.is-style-logos-only .wp-social-link-mastodon{color:#3288d4}.wp-block-social-links.is-style-logos-only .wp-social-link-medium{color:#02ab6c}.wp-block-social-links.is-style-logos-only .wp-social-link-meetup{color:#f6405f}.wp-block-social-links.is-style-logos-only .wp-social-link-patreon{color:#ff424d}.wp-block-social-links.is-style-logos-only .wp-social-link-pinterest{color:#e60122}.wp-block-social-links.is-style-logos-only .wp-social-link-pocket{color:#ef4155}.wp-block-social-links.is-style-logos-only .wp-social-link-reddit{color:#ff4500}.wp-block-social-links.is-style-logos-only .wp-social-link-skype{color:#0478d7}.wp-block-social-links.is-style-logos-only .wp-social-link-snapchat{stroke:#000;color:#fff}.wp-block-social-links.is-style-logos-only .wp-social-link-soundcloud{color:#ff5600}.wp-block-social-links.is-style-logos-only .wp-social-link-spotify{color:#1bd760}.wp-block-social-links.is-style-logos-only .wp-social-link-telegram{color:#2aabee}.wp-block-social-links.is-style-logos-only .wp-social-link-tiktok{color:#000}.wp-block-social-links.is-style-logos-only .wp-social-link-tumblr{color:#011835}.wp-block-social-links.is-style-logos-only .wp-social-link-twitch{color:#6440a4}.wp-block-social-links.is-style-logos-only .wp-social-link-twitter{color:#1da1f2}.wp-block-social-links.is-style-logos-only .wp-social-link-vimeo{color:#1eb7ea}.wp-block-social-links.is-style-logos-only .wp-social-link-vk{color:#4680c2}.wp-block-social-links.is-style-logos-only .wp-social-link-whatsapp{color:#25d366}.wp-block-social-links.is-style-logos-only .wp-social-link-wordpress{color:#3499cd}.wp-block-social-links.is-style-logos-only .wp-social-link-yelp{color:#d32422}.wp-block-social-links.is-style-logos-only .wp-social-link-youtube{color:red}.wp-block-social-links.is-style-pill-shape .wp-social-link{width:auto}.wp-block-social-links.is-style-pill-shape .wp-social-link a{padding-left:.66667em;padding-right:.66667em}.wp-block-social-links:not(.has-icon-color):not(.has-icon-background-color) .wp-social-link-snapchat .wp-block-social-link-label{color:#000}.wp-block-spacer{clear:both}.wp-block-tag-cloud{box-sizing:border-box}.wp-block-tag-cloud.aligncenter{justify-content:center;text-align:center}.wp-block-tag-cloud.alignfull{padding-left:1em;padding-right:1em}.wp-block-tag-cloud a{display:inline-block;margin-right:5px}.wp-block-tag-cloud span{display:inline-block;margin-left:5px;text-decoration:none}.wp-block-tag-cloud.is-style-outline{display:flex;flex-wrap:wrap;gap:1ch}.wp-block-tag-cloud.is-style-outline a{border:1px solid;font-size:unset!important;margin-right:0;padding:1ch 2ch;text-decoration:none!important}.wp-block-table{overflow-x:auto}.wp-block-table table{border-collapse:collapse;width:100%}.wp-block-table thead{border-bottom:3px solid}.wp-block-table tfoot{border-top:3px solid}.wp-block-table td,.wp-block-table th{border:1px solid;padding:.5em}.wp-block-table .has-fixed-layout{table-layout:fixed;width:100%}.wp-block-table .has-fixed-layout td,.wp-block-table .has-fixed-layout th{word-break:break-word}.wp-block-table.aligncenter,.wp-block-table.alignleft,.wp-block-table.alignright{display:table;width:auto}.wp-block-table.aligncenter td,.wp-block-table.aligncenter th,.wp-block-table.alignleft td,.wp-block-table.alignleft th,.wp-block-table.alignright td,.wp-block-table.alignright th{word-break:break-word}.wp-block-table .has-subtle-light-gray-background-color{background-color:#f3f4f5}.wp-block-table .has-subtle-pale-green-background-color{background-color:#e9fbe5}.wp-block-table .has-subtle-pale-blue-background-color{background-color:#e7f5fe}.wp-block-table .has-subtle-pale-pink-background-color{background-color:#fcf0ef}.wp-block-table.is-style-stripes{background-color:transparent;border-bottom:1px solid #f0f0f0;border-collapse:inherit;border-spacing:0}.wp-block-table.is-style-stripes tbody tr:nth-child(odd){background-color:#f0f0f0}.wp-block-table.is-style-stripes.has-subtle-light-gray-background-color tbody tr:nth-child(odd){background-color:#f3f4f5}.wp-block-table.is-style-stripes.has-subtle-pale-green-background-color tbody tr:nth-child(odd){background-color:#e9fbe5}.wp-block-table.is-style-stripes.has-subtle-pale-blue-background-color tbody tr:nth-child(odd){background-color:#e7f5fe}.wp-block-table.is-style-stripes.has-subtle-pale-pink-background-color tbody tr:nth-child(odd){background-color:#fcf0ef}.wp-block-table.is-style-stripes td,.wp-block-table.is-style-stripes th{border-color:transparent}.wp-block-table .has-border-color td,.wp-block-table .has-border-color th,.wp-block-table .has-border-color tr,.wp-block-table .has-border-color>*{border-color:inherit}.wp-block-table table[style*=border-top-color] tr:first-child,.wp-block-table table[style*=border-top-color] tr:first-child td,.wp-block-table table[style*=border-top-color] tr:first-child th,.wp-block-table table[style*=border-top-color]>*,.wp-block-table table[style*=border-top-color]>* td,.wp-block-table table[style*=border-top-color]>* th{border-top-color:inherit}.wp-block-table table[style*=border-top-color] tr:not(:first-child){border-top-color:currentColor}.wp-block-table table[style*=border-right-color] td:last-child,.wp-block-table table[style*=border-right-color] th,.wp-block-table table[style*=border-right-color] tr,.wp-block-table table[style*=border-right-color]>*{border-right-color:inherit}.wp-block-table table[style*=border-bottom-color] tr:last-child,.wp-block-table table[style*=border-bottom-color] tr:last-child td,.wp-block-table table[style*=border-bottom-color] tr:last-child th,.wp-block-table table[style*=border-bottom-color]>*,.wp-block-table table[style*=border-bottom-color]>* td,.wp-block-table table[style*=border-bottom-color]>* th{border-bottom-color:inherit}.wp-block-table table[style*=border-bottom-color] tr:not(:last-child){border-bottom-color:currentColor}.wp-block-table table[style*=border-left-color] td:first-child,.wp-block-table table[style*=border-left-color] th,.wp-block-table table[style*=border-left-color] tr,.wp-block-table table[style*=border-left-color]>*{border-left-color:inherit}.wp-block-table table[style*=border-style] td,.wp-block-table table[style*=border-style] th,.wp-block-table table[style*=border-style] tr,.wp-block-table table[style*=border-style]>*{border-style:inherit}.wp-block-table table[style*=border-width] td,.wp-block-table table[style*=border-width] th,.wp-block-table table[style*=border-width] tr,.wp-block-table table[style*=border-width]>*{border-style:inherit;border-width:inherit}:where(.wp-block-term-description){margin-bottom:var(--wp--style--block-gap);margin-top:var(--wp--style--block-gap)}.wp-block-term-description p{margin-bottom:0;margin-top:0}.wp-block-text-columns,.wp-block-text-columns.aligncenter{display:flex}.wp-block-text-columns .wp-block-column{margin:0 1em;padding:0}.wp-block-text-columns .wp-block-column:first-child{margin-left:0}.wp-block-text-columns .wp-block-column:last-child{margin-right:0}.wp-block-text-columns.columns-2 .wp-block-column{width:50%}.wp-block-text-columns.columns-3 .wp-block-column{width:33.33333%}.wp-block-text-columns.columns-4 .wp-block-column{width:25%}pre.wp-block-verse{overflow:auto;white-space:pre-wrap}:where(pre.wp-block-verse){font-family:inherit}.wp-block-video{box-sizing:border-box}.wp-block-video video{width:100%}@supports (position:sticky){.wp-block-video [poster]{object-fit:cover}}.wp-block-video.aligncenter{text-align:center}.wp-block-video figcaption{margin-bottom:1em;margin-top:.5em}.editor-styles-wrapper,.entry-content{counter-reset:footnotes}a[data-fn].fn{counter-increment:footnotes;display:inline-flex;font-size:smaller;text-decoration:none;text-indent:-9999999px;vertical-align:super}a[data-fn].fn:after{content:"[" counter(footnotes) "]";float:left;text-indent:0}.wp-element-button{cursor:pointer}:root{--wp--preset--font-size--normal:16px;--wp--preset--font-size--huge:42px}:root .has-very-light-gray-background-color{background-color:#eee}:root .has-very-dark-gray-background-color{background-color:#313131}:root .has-very-light-gray-color{color:#eee}:root .has-very-dark-gray-color{color:#313131}:root .has-vivid-green-cyan-to-vivid-cyan-blue-gradient-background{background:linear-gradient(135deg,#00d084,#0693e3)}:root .has-purple-crush-gradient-background{background:linear-gradient(135deg,#34e2e4,#4721fb 50%,#ab1dfe)}:root .has-hazy-dawn-gradient-background{background:linear-gradient(135deg,#faaca8,#dad0ec)}:root .has-subdued-olive-gradient-background{background:linear-gradient(135deg,#fafae1,#67a671)}:root .has-atomic-cream-gradient-background{background:linear-gradient(135deg,#fdd79a,#004a59)}:root .has-nightshade-gradient-background{background:linear-gradient(135deg,#330968,#31cdcf)}:root .has-midnight-gradient-background{background:linear-gradient(135deg,#020381,#2874fc)}.has-regular-font-size{font-size:1em}.has-larger-font-size{font-size:2.625em}.has-normal-font-size{font-size:var(--wp--preset--font-size--normal)}.has-huge-font-size{font-size:var(--wp--preset--font-size--huge)}.has-text-align-center{text-align:center}.has-text-align-left{text-align:left}.has-text-align-right{text-align:right}#end-resizable-editor-section{display:none}.aligncenter{clear:both}.items-justified-left{justify-content:flex-start}.items-justified-center{justify-content:center}.items-justified-right{justify-content:flex-end}.items-justified-space-between{justify-content:space-between}.screen-reader-text{clip:rect(1px,1px,1px,1px);word-wrap:normal!important;border:0;-webkit-clip-path:inset(50%);clip-path:inset(50%);height:1px;margin:-1px;overflow:hidden;padding:0;position:absolute;width:1px}.screen-reader-text:focus{clip:auto!important;background-color:#ddd;-webkit-clip-path:none;clip-path:none;color:#444;display:block;font-size:1em;height:auto;left:5px;line-height:normal;padding:15px 23px 14px;text-decoration:none;top:5px;width:auto;z-index:100000}html :where(.has-border-color){border-style:solid}html :where([style*=border-top-color]){border-top-style:solid}html :where([style*=border-right-color]){border-right-style:solid}html :where([style*=border-bottom-color]){border-bottom-style:solid}html :where([style*=border-left-color]){border-left-style:solid}html :where([style*=border-width]){border-style:solid}html :where([style*=border-top-width]){border-top-style:solid}html :where([style*=border-right-width]){border-right-style:solid}html :where([style*=border-bottom-width]){border-bottom-style:solid}html :where([style*=border-left-width]){border-left-style:solid}html :where(img[class*=wp-image-]){height:auto;max-width:100%}:where(figure){margin:0 0 1em}html :where(.is-position-sticky){--wp-admin--admin-bar--position-offset:var(--wp-admin--admin-bar--height,0px)}@media screen and (max-width:600px){html:where(.is-position-sticky){--wp-admin--admin-bar--position-offset:0px}}/*]]>*/
URL:

ifit.com



Client: iFIT

Agency: Merchant Cantos (London & New York)

Date: April 2021 - August 2021

Location: Remote (UK)

Duration: 5 months

My Role: UX Designer

Deliverables: UX audit, sitemap, user journeys, wireframes, prototypes
iFIT is a world leader in the arena of connected fitness. Their software and hardware solutions enable millions of users to achieve their fitness goals effectively.
Against the backdrop of the global pandemic and changing work and fitness habits, iFIT sought to increase its subscriber base through UX and visual improvement to their responsive website
Merchant Cantos were engaged in leading the project. Their creative director contacted me to work alongside the design team and drive the UX.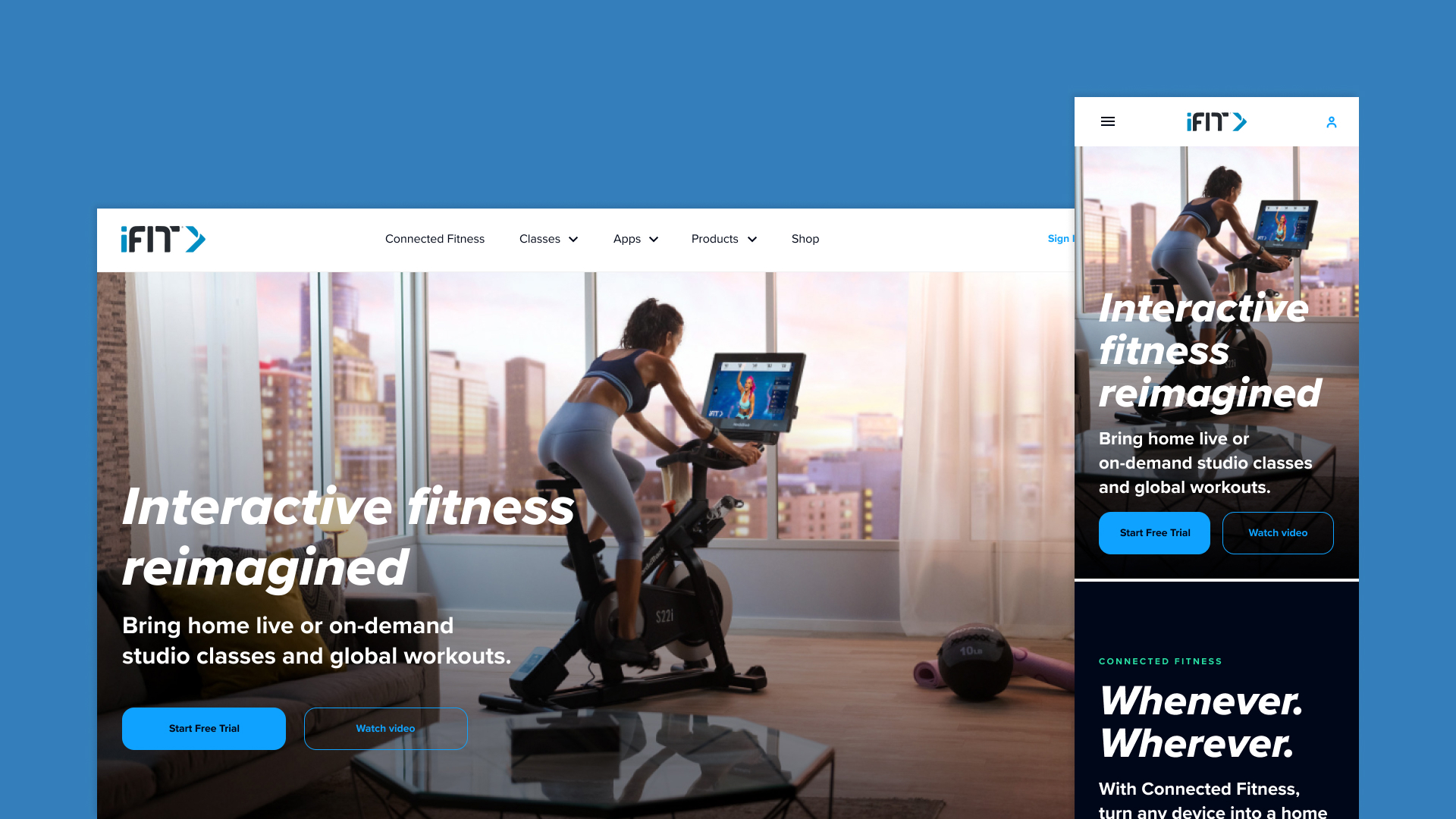 Discovery
The discovery process involved examining the existing site architecture, UI, analytics and competitor landscape. The aim was to discover any opportunities for differentiation by analysing the existing content structure, brand, usage patterns and how the brand sat within the competitive landscape.
The site needed to support both existing users (navigating from their dashboard, and new users)
Confusing messaging around the various propositions: App-only, App + equipment, integrated solution
Unoptimised sign-up journey
Breadth and depth of course content not communicated well enough
Limited customer testimonials
Dated look and feel of the UI
Competitor sites communicated propositions in a more transparent and engaging manner
Content Architecture
One of the key challenges (from a content architecture point of view), was to articulate the value proposition better. Previously a section entitled 'Connected Fitness' combined an overview of this concept and introduced equipment. In addition, other areas of the offering (apps and classes) only included single pages.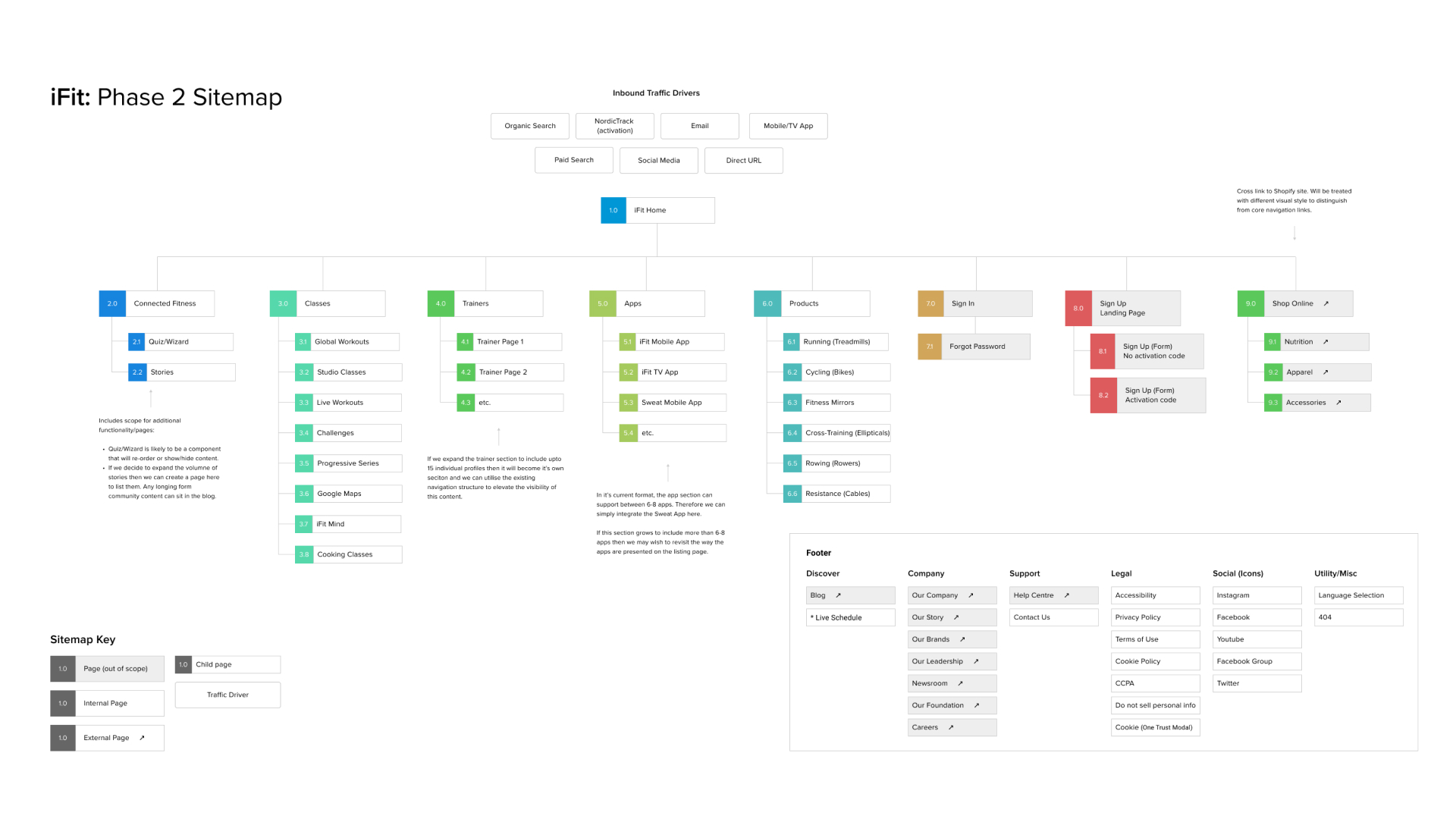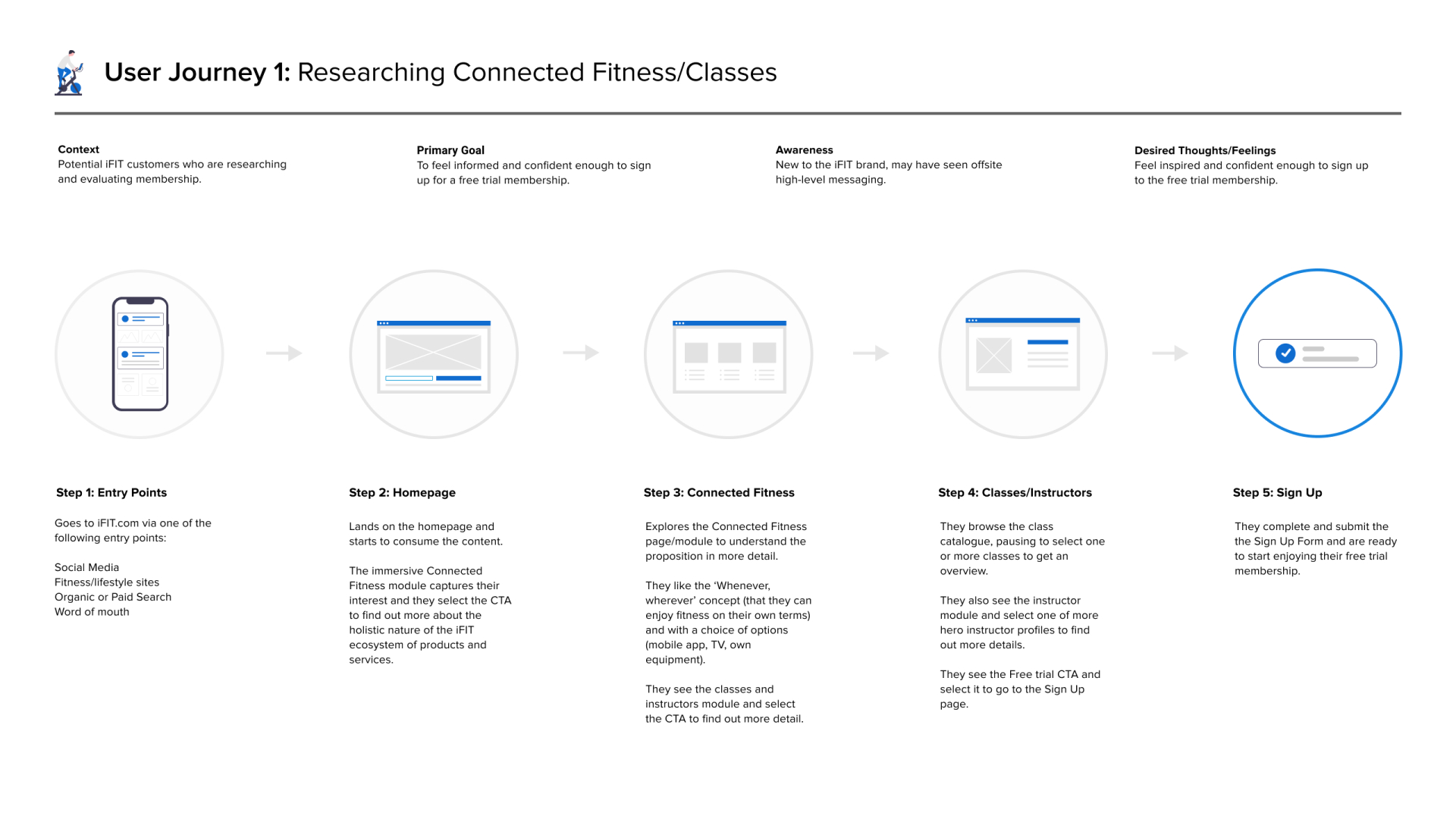 The content architecture was revised to improve the clarity of the key areas:
Connected Fitness was reserved to just explain the concept
A new section entitled 'Products/Equipment' was created to house exercise equipment
A dedicated page was created for each class type
A dedicated page was created for each app
Clearer signposting for the sign-up routes
Clearer signposting for external links to the shop and blog
Our thinking was captured in an annotated sitemap. This was supplemented with select user journeys, to demonstrate how the structure would serve core user needs.
I presented these deliverables to the client. After several rounds of amends, they were approved and we moved on to wireframes and prototyping.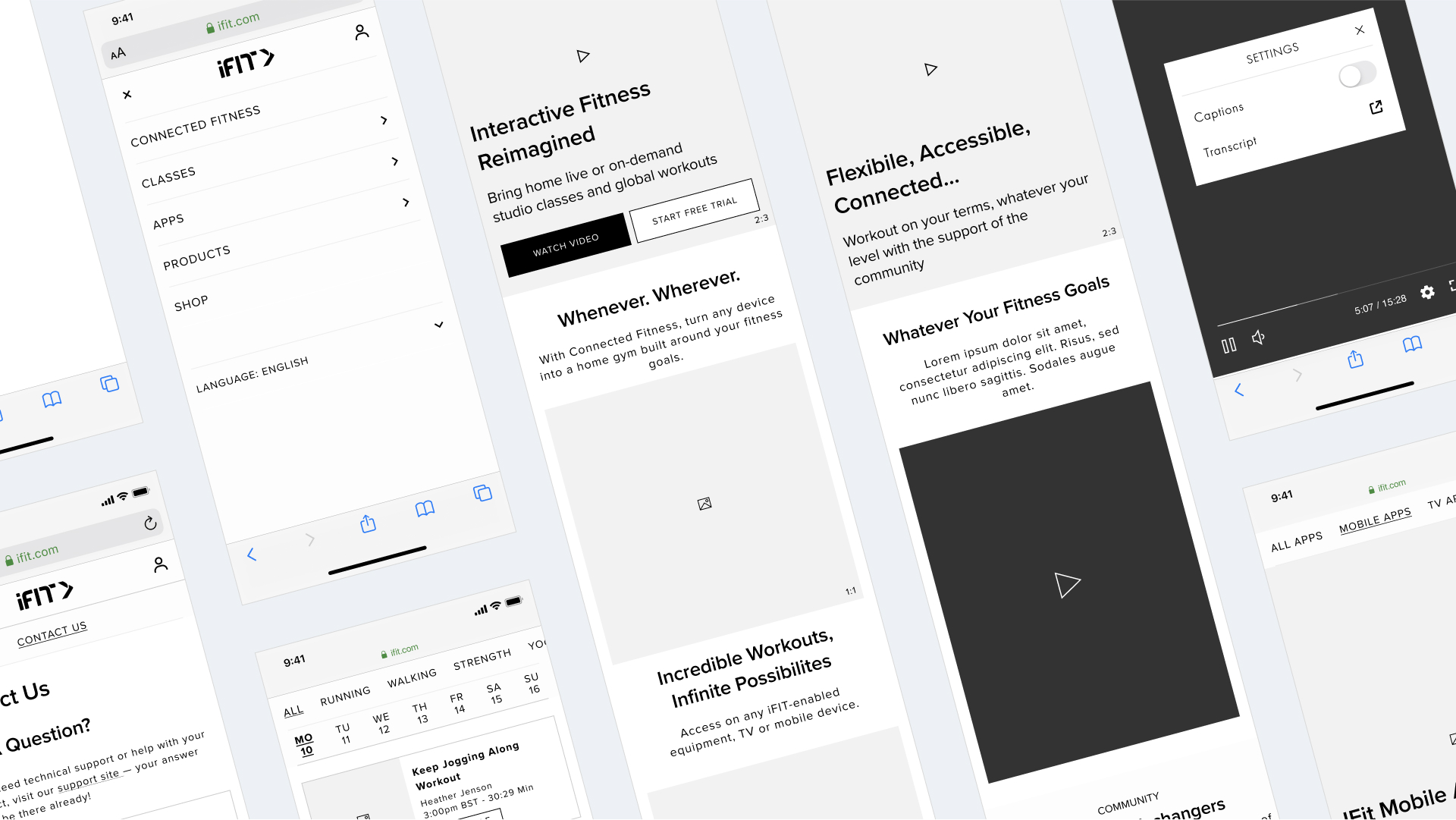 This stage of the project was split into focused sprints. Global assets, such as navigation and footers were tackled, followed by each section of the site.
Even though UX artefacts don't often form part of the final deliverable, I prefer to develop a component library whilst wireframing. I invest some time at the start of the sprint to establish base styles and then I simply add components as I progress.
I've taken this approach for years, and it has evolved as my tools and role have changed over time (HTML and PHP code snippets, OmniGraffle stencils, Sketch libraries).
It was a client requirement for the team to use Figma for the project, which was welcomed as I have naturally transitioned my workflow from Sketch to Figma over the past 3-4 years. This also meant we could create prototypes within the same design tool.
We presented the wireframes and prototypes in batches and obtained client sign-off as we progressed.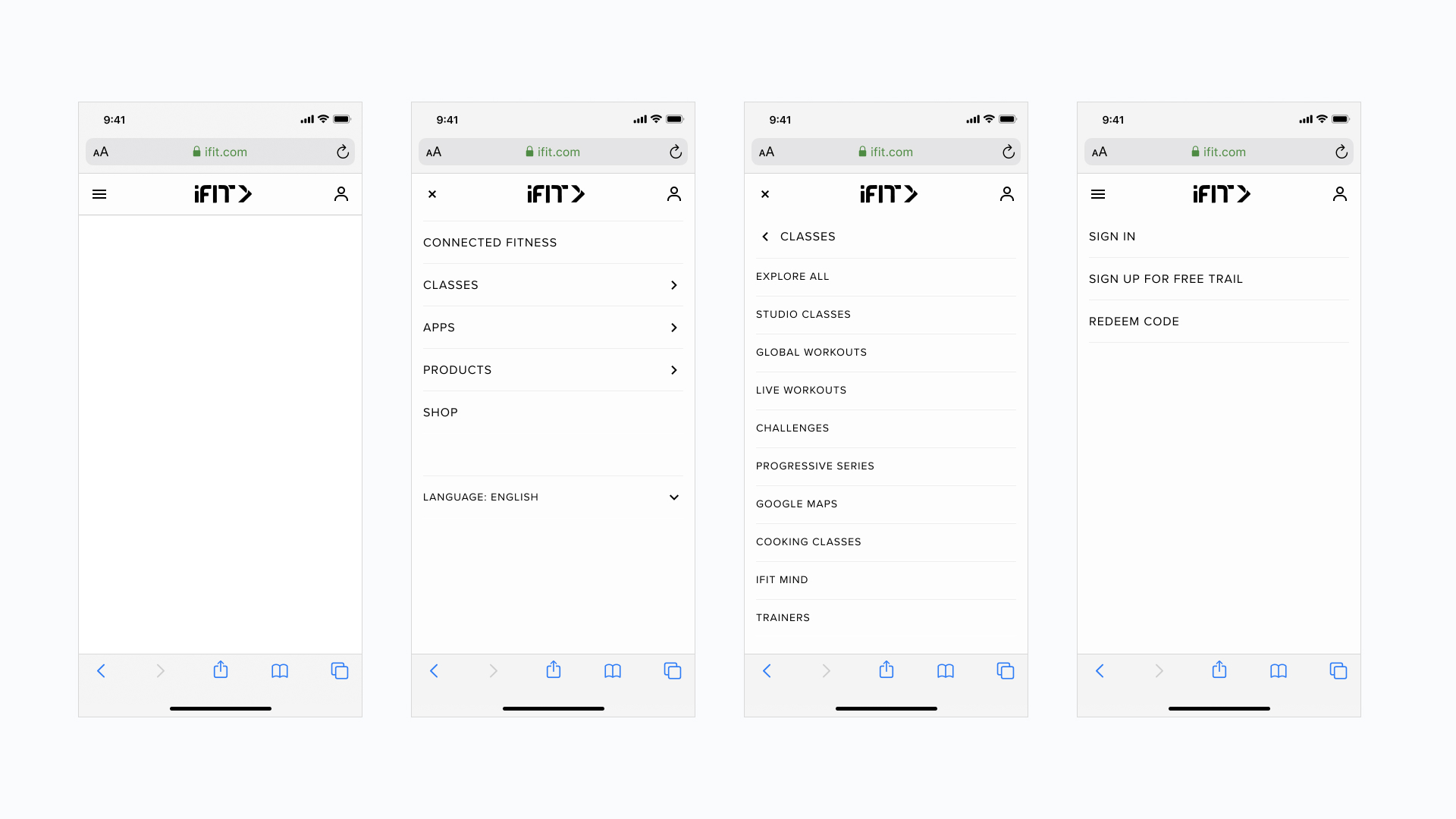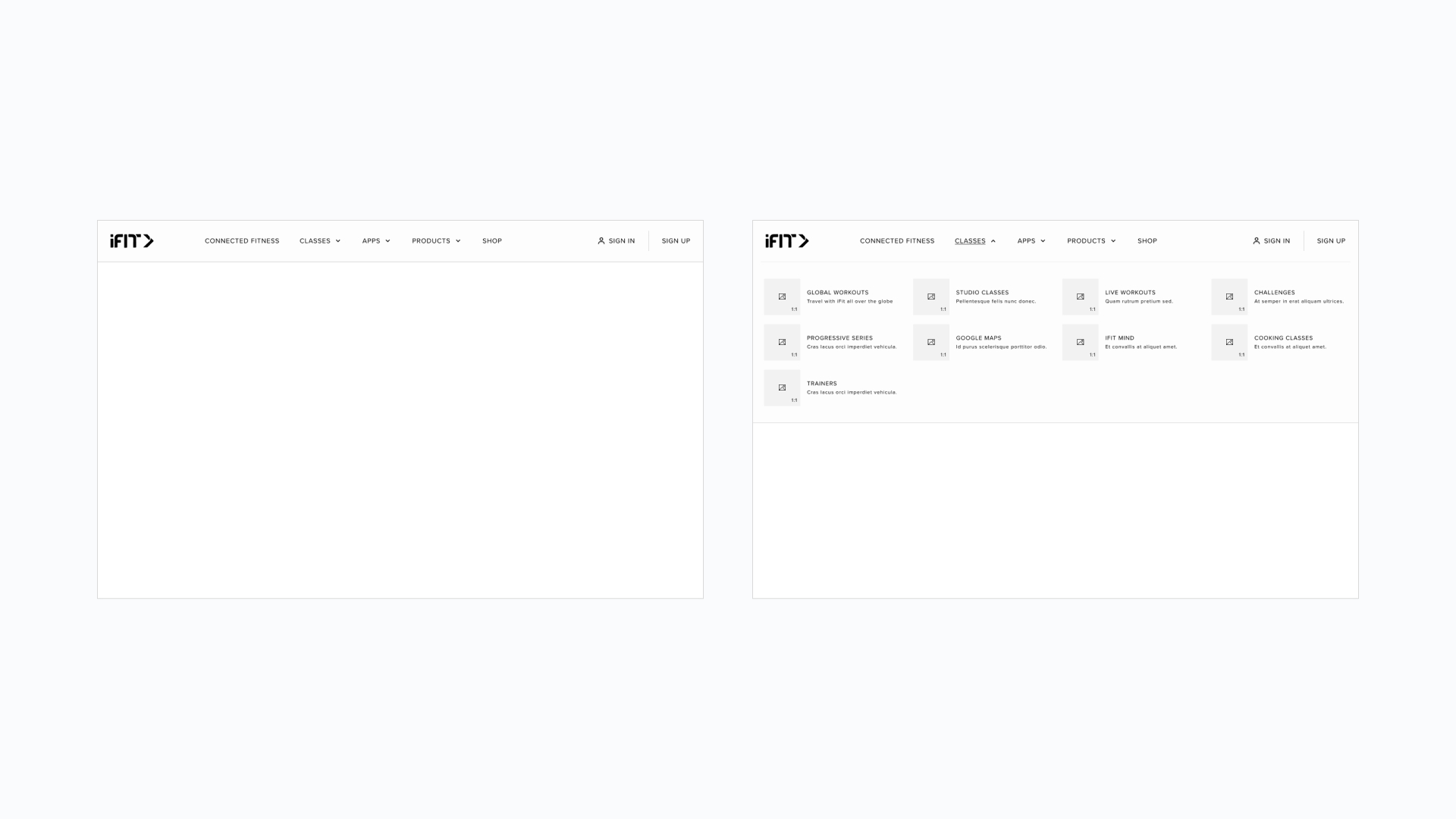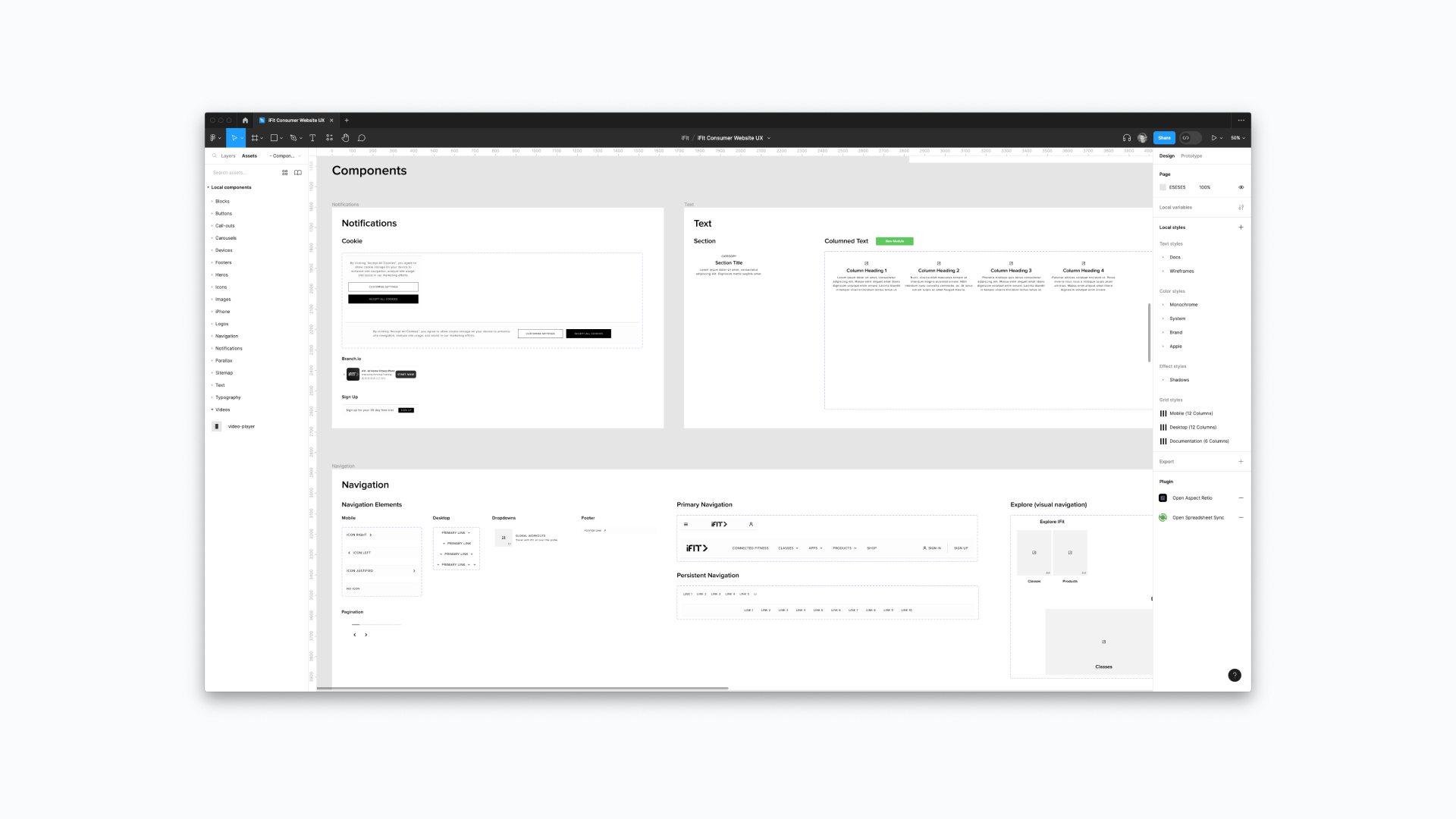 Prototyping
Alongside the extensive collection of wireframes, I also developed a set of key functional prototypes tied to the aforementioned user journeys.
Below is a small selection of prototypes from the project.
UI Design
The UI design was led by Ken Wong, with creative direction from Kat Howell. The UI design was staggered to allow UX to gain sufficient traction and avoid any blockers.
Development
Development was handled in-house at iFIT. Both UX and UI worked closely to ensure that all visual assets and guidelines were clear and that the creative and UX visions were fully understood. Using the handoff feature in Figma, alongside Adobe After Effects for higher-fidelity motion design, resulted in a smooth handover process.
The client was extremely happy with the final output of the project, as well as our thoughtful and respectful approach. The main challenges we encountered centred around coordinating remote collaboration, across 3 time zones (UK, New York and Utah).
Unfortunately, even though we drafted a user testing plan, the budget didn't allow for the full execution of this phase.
In addition (as with many projects when you work in a freelance capacity) I didn't have access to the site analytics, so can't compare before and after conversion KPIs.
In summary, the project was well-organised and executed by the team and that is evident in a happy client (and hopefully happy users).